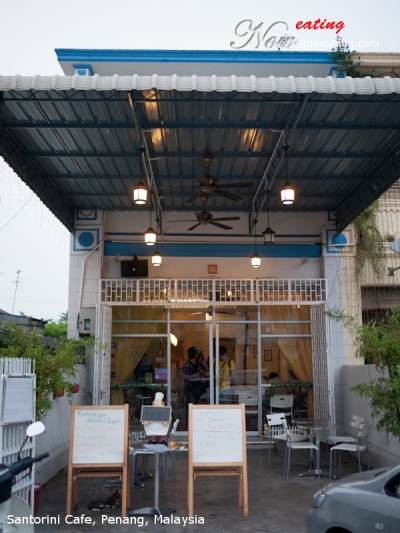 Burmah Road is a busy street. Sometimes I went there for praying, eating, say "Hello" to fishes in CTY Aquarium or updating blogs in Starbuck. I noticed Santorini restaurant a few times and was planning to visit it one day, and was able to make it recently.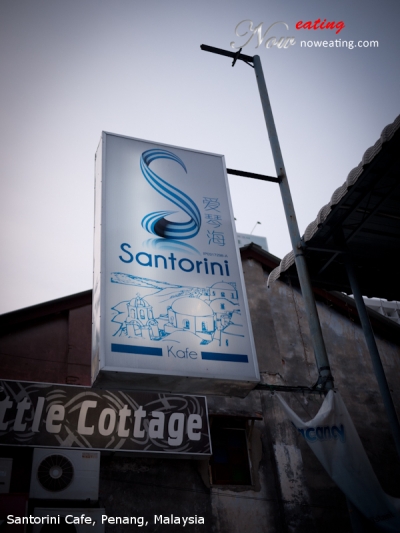 Santorini, a word so hard to pronounce (at least for me) in which I still prefer to call it in Chinese name, is referring to a group of beautiful islands located 8400 km (5220 miles) away from Penang (near to Greece mainland). I never been there before but I heard that once you been there, you will fall in love with it.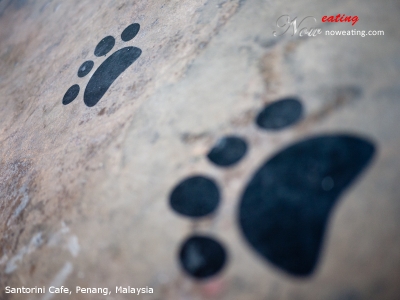 Anyway, this restaurant… or rather cafe, is located beside Little Cottage 1. Parking could be a bit difficult as the city council now removed some parking lots along the road. You may turn into Jalan Zainal Abidin or Jalan Kedah for more parking spaces.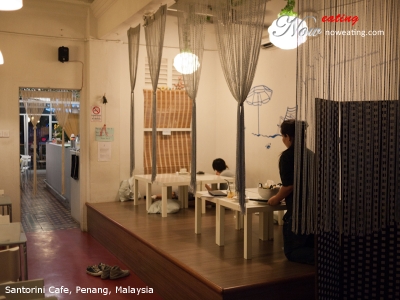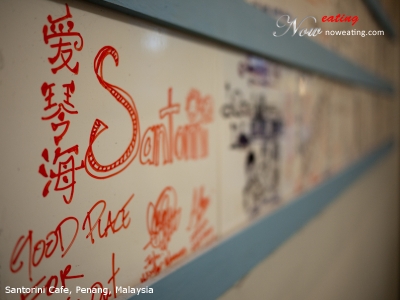 The cafe reminded me of Sushi Kitchen, a relaxing vegetarian cafe at Sungai Ara. You can choose between tatami or table seats. Having said that, this cafe also aimed for casual and relaxing dining. This restaurant also has "autograph wall" in which satisfied customers left comments on it.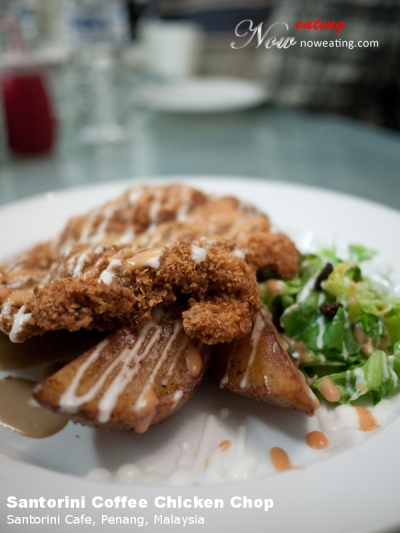 There are basically two type of cuisines in the menu – Chinese and western, and they are not just ordinary Yeung Chow fried rice or chicken chop. For example, this coffee chicken chop (RM13.90) was an eye opener. The mildly fried chicken drumstick + thigh was topped with "coffee sauce", and the coffee taste was strong. Good for coffee lover and I particularly like this dish.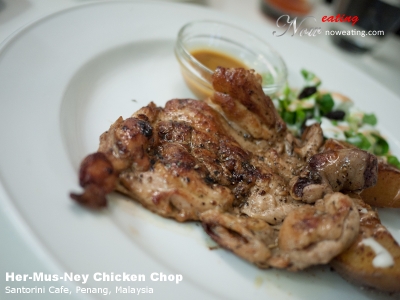 Another signature dish was Her-Mus-Ney Chicken Chop (RM11.90). It looked like an ordinary grilled chicken but the different is on the sauce, which was made of mustard mixed with other secret ingredient. The portion is of course small for me.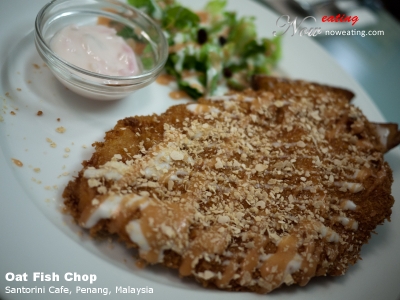 Opening another western restaurant next to a western restaurant of more than 10 years is not an easy task. You need to think of dish variants which is not covered  by your competitor. One of them is this Oat Fish Chop (RM12.90) (instead of competitor's Almond Fish Chop).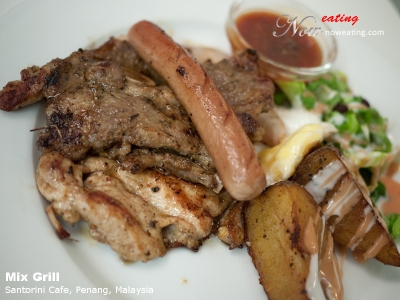 If you would like to try everything, try Mix Grill (RM20.90) which consist of lamb, chicken, and sausage (and special chili garlic sauce). Just average considering there are many restaurants having this kind of "combo meal".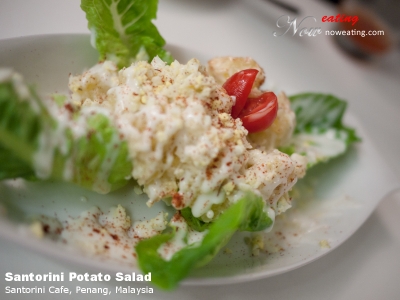 As a starter, you may try their Santorini Potato Salad (RM5.00).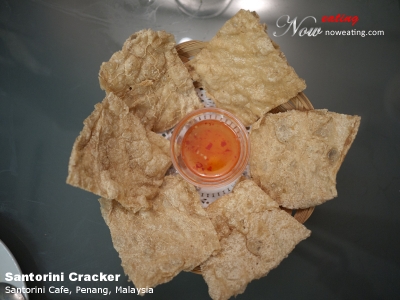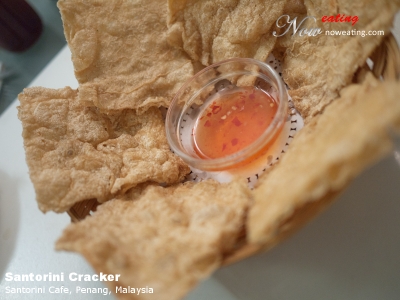 Another starter, Santorini Cracker (RM4.90) tasted and looked like fried bean curd skin but this one is more crispy and salty. Best dip in soup.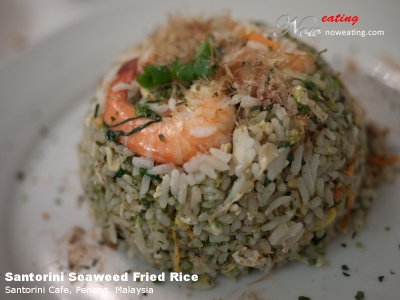 They also turned ordinary fried rice into Santorini Seaweed Fried Rice (RM6.90).This reminded of the seaweed fried rice in Sushi Kitchen, except Sushi Kitchen one had fried rice wrapped with seaweed, while this one had seaweed ground with fried rice. Some may find it a bit "fishy" due to seaweed.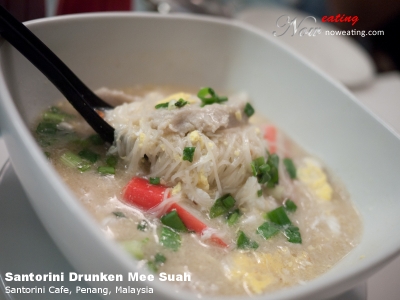 Santorini Drunken Mee Suah (RM6.90) is good for those looking for healthy meal. Note that this is not Mee Suah Kor in which you usually find a lot of seafood ingredients in it. This is more toward clear soup type but you can always add vinegar provided to make it tastes like sharkfin soup. Tasted good with additional of cooking rice wine.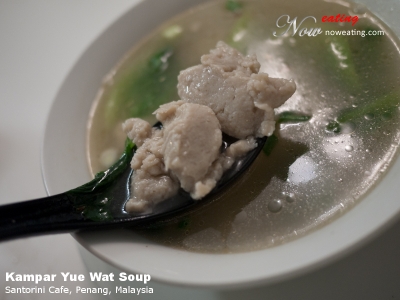 As one of the chefs is doing fishball family business, they also have homemade fish ball soup – Kampar Yue Wat (鱼滑) soup (RM5.90). We were told that they were "imported" from Kampar and were made of a fish called Bombay Duck (a.k.a Tofu fish). They were springy and best accompanied with main courses.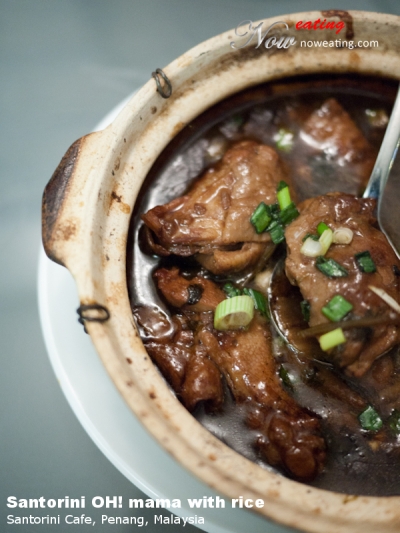 Santorini OH! mama is a claypot chicken cooked with dark secret sauce which is best consumed with rice (and hence it always comes with rice when you order this item). It is one of their signature dishes and don't ask me why it is called "mama" and not "papa". Maybe it was the owner's mother favorite cook. The chicken was cooked long enough that the dark sauce penetrating its skin. What I hope for is an additional of rice for rice basket such as myself.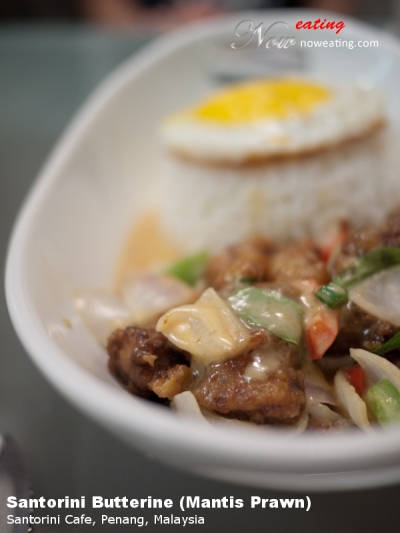 Another dish which comes with rice is Santorini Butterine (RM7.90). You can choose between chicken, fish or mantis prawn. Butterine basically is a butter mixed with other ingredients to make it good for cooking. The one we ordered was mantis prawn version and it tasted as good as those in Choo Char restaurant.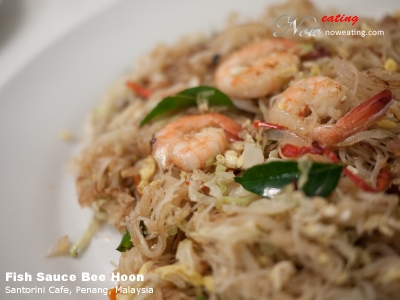 They do have fried bee hoon (rice noodle) – Fish Sauce Bee Hoon (RM5.90). It looks like common Singapore bee hoon but this one uses fish sauce (鱼露) which is commonly used in Thai, Vietnam, and Korean dishes instead of tomato paste.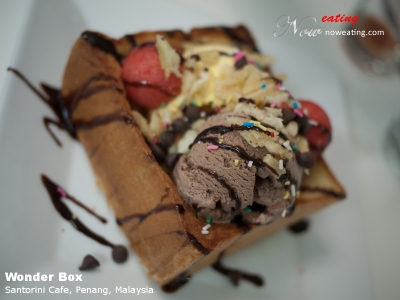 Finally, dessert time. This Wonder Box (RM6.00) reminded me of my childhood in which I like to order RM1.00 ice cream roti (bread) from mobile ice cream cart. This is similar dessert except it mixed with some fruits. It comes with 2 scoops of ice cream.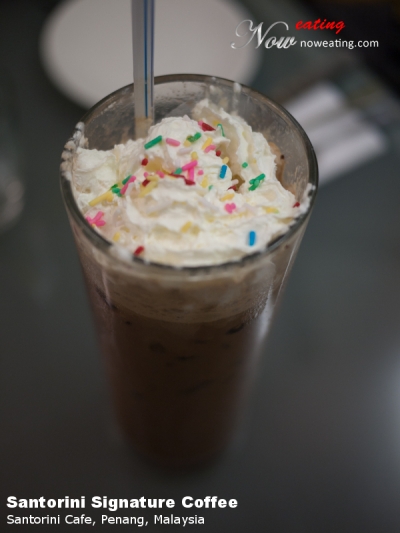 We tried few signature drinks that night, including Santorini Signature Coffee (RM8.00). A bit like Old Town white coffee just that this one is thicker.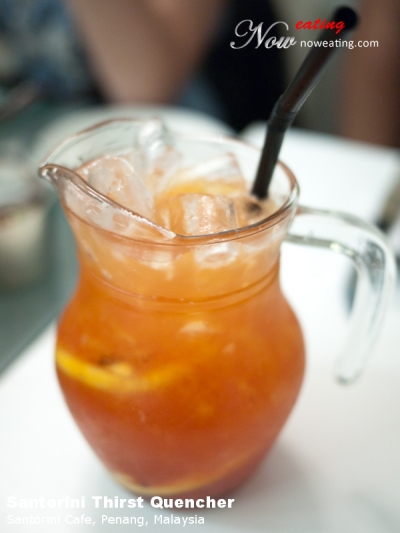 Santorini Thirst Quencher (RM5.00) tasted like sour plum drink and definitely will awake you. According to the owner, it was the mixture of red plum and other fruits.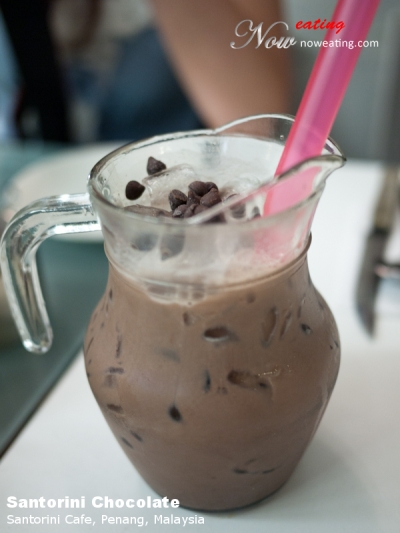 The different between Malaysia and US is that in Malaysia, chocolate drink is everywhere, including the famous Milo, Vico, Ovaltine, and even the Tesco brand. Reviewing chocolate drink like Santorini Chocolate (RM5.50) was tough as you always related it back to those commercial brand.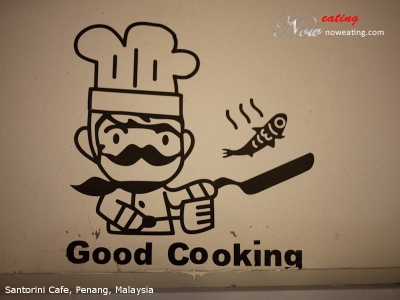 It was amazed that with so many items we tried, there were still so many sections in the menu we didn't try, such as spagetti, vegetarian, and breakfast. So many dishes they can prepare in a small kitchen. As a whole, a place worth visiting if you have friends or family members of different taste buds. They do have some specialties and it is a good place to relax and chit chat as well. Open during lunch and dinner time and close on Monday.
| | |
| --- | --- |
| Place Name: | Santorini 爱琴海 |
| Cuisine: | Western, Chinese |
| Address: | 94, Burmah Road, George Town, 10050, Penang, Malaysia |
| Tel: | +6042292776 |
| Email: | [email protected] |
| Working Hour: | 11am - 3pm, 5pm - 10:30pm (Close on Monday) |
| Tax: | No |
| Last Visit: | 20110701 |