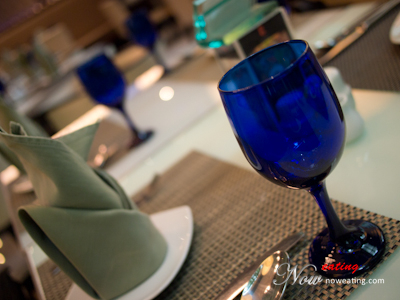 After posting buffet promotions in G-Cafe of G-Hotel, my friends saw the post and decided to give the Shellfish Galore theme on Monday a try. In our opinion, it was one of the most valuable themes with "Buy 1 Free 1" promotion (only for Sep/Oct 2011).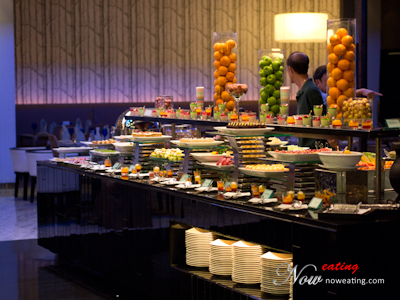 We went there on one Friday to make reservation on next Monday but unfortunately only outdoor tables were available. So, we booked the week after instead.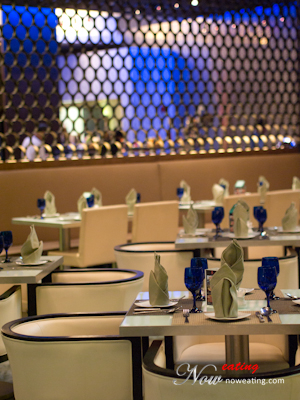 Even though the buffet started at 6:30pm, we reached there at 6:00pm and the host was friendly enough to let us snap photos around while they busy preparing food.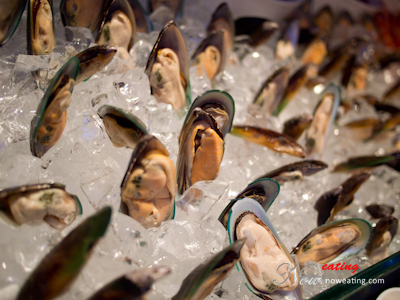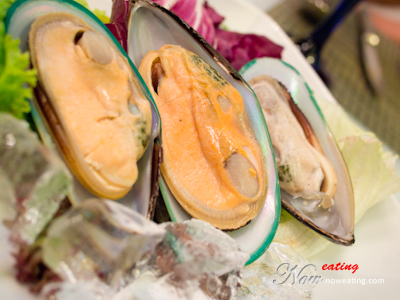 Since this was a shellfish theme, I quickly look for shellfish items. Yes, they did have mussels. Tasted good with lemon, or even better with wasabi!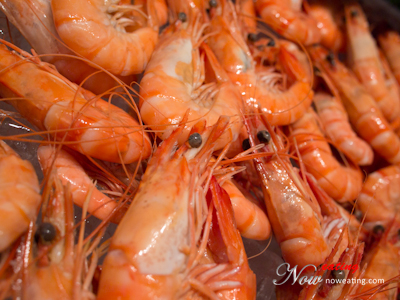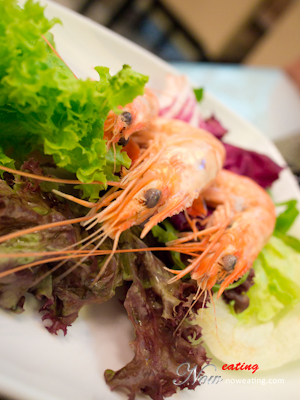 … and fresh prawns.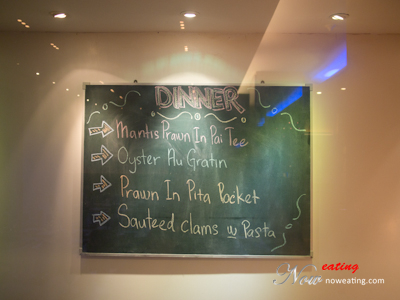 Where is oysters? I walked around and found out that instead of putting them in self-service tray, they were served by waiters from a counter.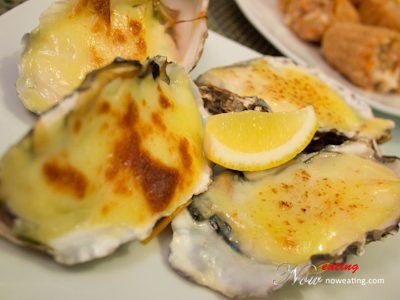 Instead of prepared in raw, the oysters were rinsed and topped with baked cheese.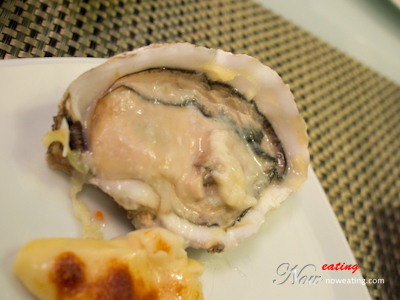 Seriously, they were not baked at that counter. The host just wanna control customers' orders. I must remind you that this Oyster is the hottest item. In less than an hour, the "Oyster Au Gratin" words were removed from the board. I even saw some uncles almost crawled into the counter to get more of them.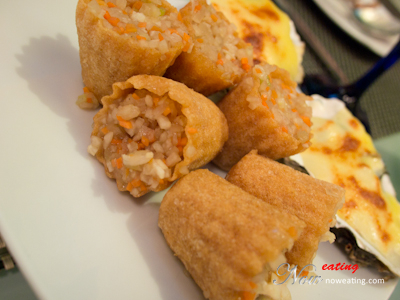 Other than oysters, they did offer other valuable items from that counter, including Mantis Prawn in Pai Tee (even though I didn't taste of Mantis Prawn in it).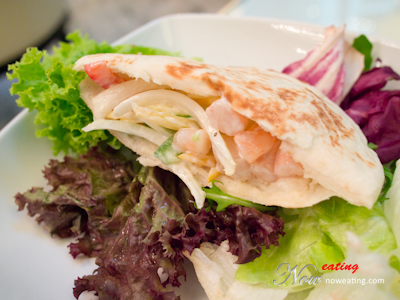 Prawn in Pita Pocket. The prawns were marinated with sugar.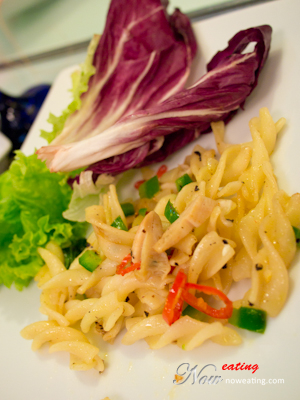 Sautéed Clams with Pasta. It took 3 minutes to prepare this small dish.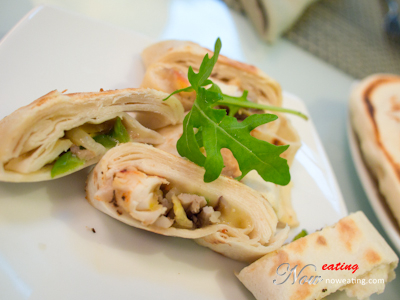 They even offerring out-of-menu items, including this Lobster Fajitas…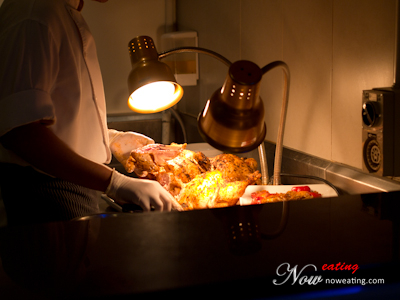 … and chicken which was prepared on the spot.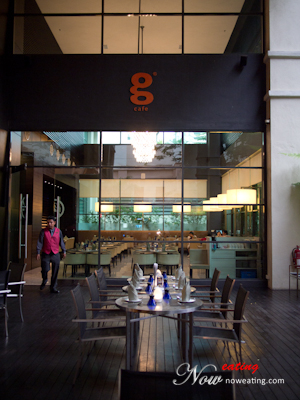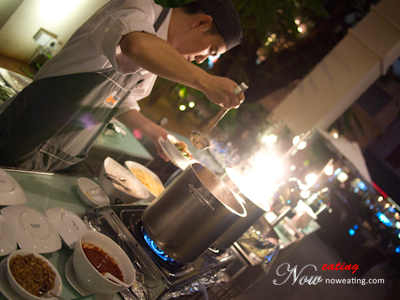 By the way, don't forget that there is an outdoor area in which you could find more stalls, including…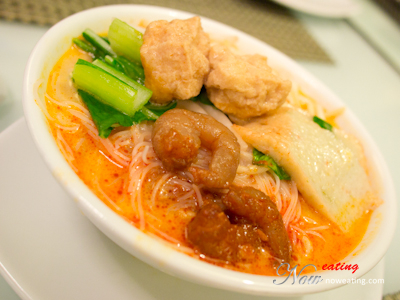 … curry mee stall (it tasted just average perhaps lack of some non-halal ingredients)…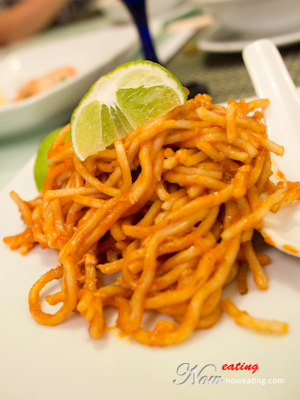 … and mee goreng (also just average perhaps lack of crispy prawn biscuit/cake).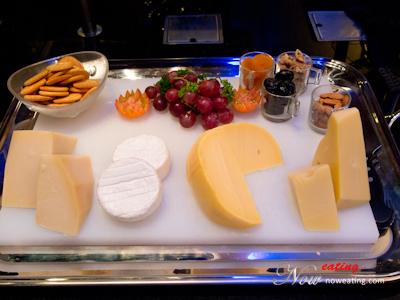 Even though the theme is "Shellfish Galore", there were many "non-shellfish" items such as western breakfast (as shown above), vegetables, chicken, duck, fish, beef, and etc. I am lazy to go through each of them so I just briefly mention some which were intereting.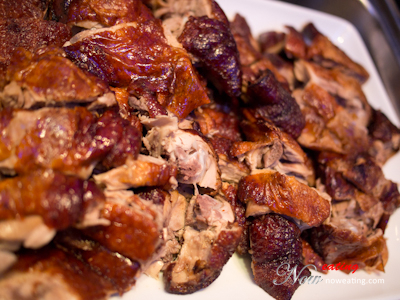 First is the roasted duck with plum sauce. Make sure you take their plum sauce.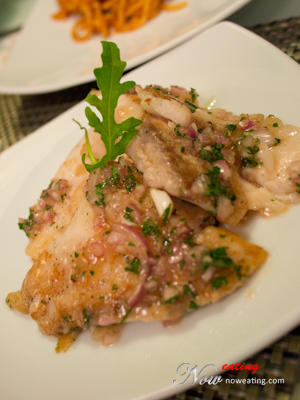 Grilled Fish with Mixberries Salsa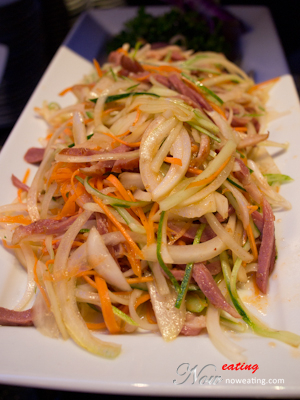 Roasted Duck Salad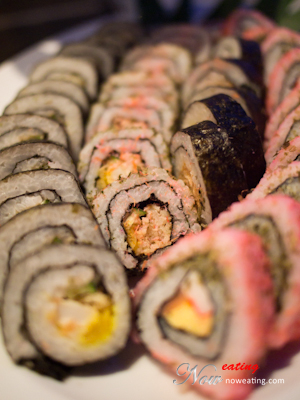 They did have some maki as well and they disappear very fast as well.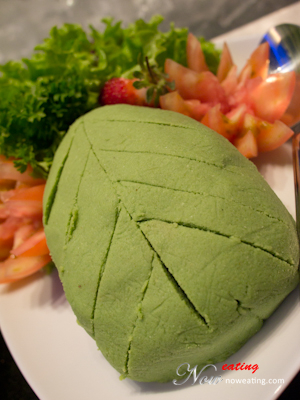 On the table is a monster size wasabi. Not only it is good for maki, but also good dip with mussel.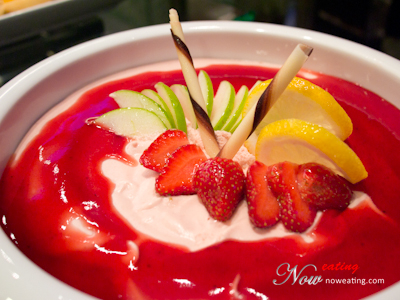 Desserts are one of the selling point of G-Hotel. Most items were home-made (or hotel-made?). I did not have opportunity to try most of them due to the fact that I focused more on main courses. Some items were very tempting even by just looking on them, including Strawberry Mousse above.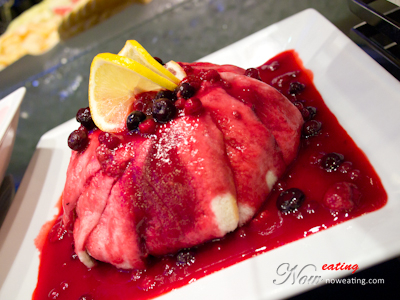 Summer Pudding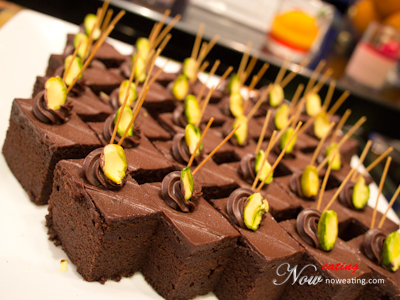 Chocolate Fudge Cake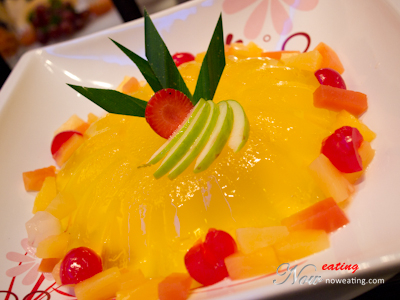 … and fruit jelly.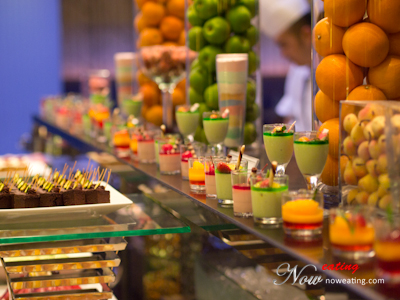 Not to forget is "dessert in a cup" randomly displayed on the counter. They are always nice to eat.
Finally, time to pamper myself with three scopes of ice cream. It has four favors to choose from that night, including chocolate, strawberry, mint, and vanilla.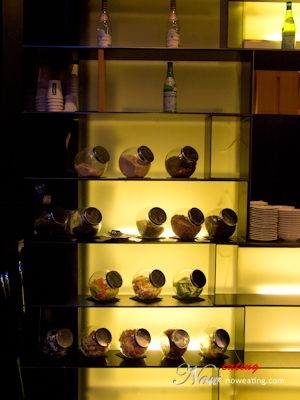 Where did I get that O-ring topping? They are generous enough to provide you a whole rack of DIY topping.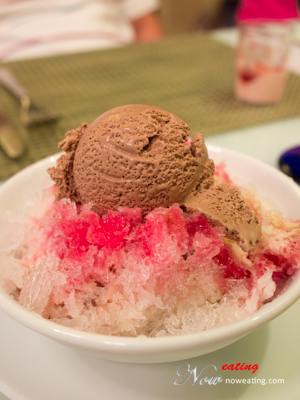 Most people did not aware, but they did offer ABC from the same stall as well. You can ask them add one scope of ice cream on top.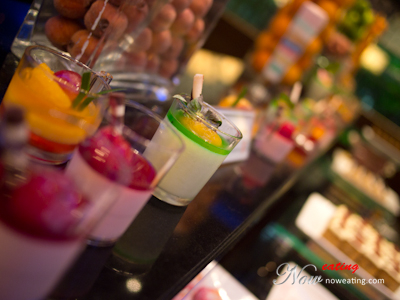 With only RM36++ per person, Shellfish Galore buffet in G-Cafe is definitely worth trying. Unfortunately it ends on October so you still have two more Monday to go. The only item they did not offer that day was flower crab which we only realized after returning home. Regardless on which buffet theme, make sure you arrive on or before 6:30pm to avoid any disappointment. Early birds catch the oysters.
| | |
| --- | --- |
| Place Name: | G Cafe |
| Cuisine: | Buffet |
| Address: | 168A Persiaran Gurney, 10250, Penang, Malaysia |
| Tel: | +6042380000 Fax: +6042380088 |
| Email: | [email protected] |
| Website: | www.ghotel.com.my |
| Working Hour: | 12pm - 3pm, 6:30pm - 10pm |
| Tax: | 10% Service Tax, 6% Government Tax |
| Last Visit: | 17-Oct-2011 |