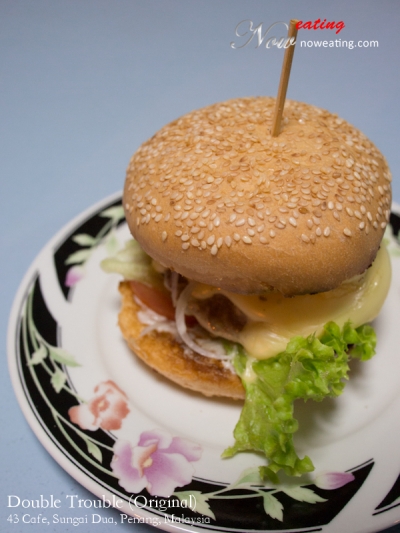 Usually I did not review fast food. However, after visiting 43 Cafe located at Sungai Dua, Penang, I make an exception by introducing you all their homemade pork burger which is prepared fresh daily (Note: This post is non-halal).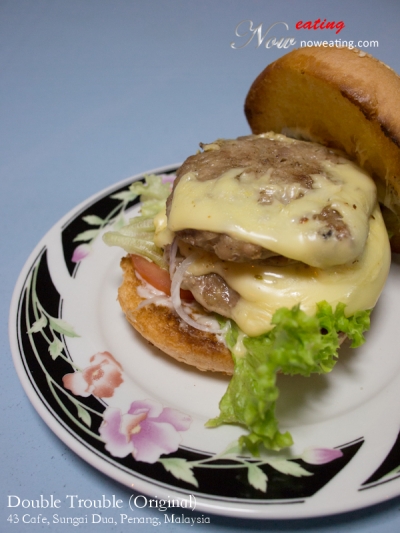 According to the owner – Jacgy, he purchased and started mincing the meat as early as 7:30am. The meat was minced and mixed by hand in order to have different texture in a single patty.  Another 3 hours was then spent to remove chewy gelatin, and those patties were just for burgers going to sell for that evening. Picture above shows original Double Trouble burger (RM8.00) comes with two patties, lettuce, onion, tomato slices, extra melted cheese, and butter-coated bun.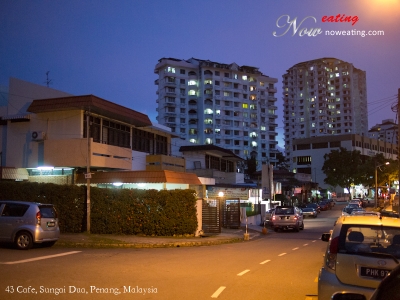 Where is the shop, you asked. It is located at a walking distance opposite of USM Sungai Dua entrance, toward the traffic light of Sunny Point. It is a double-storey resident house located at a corner (By the way, that is Jacgy's house). There is no signboard at the moment.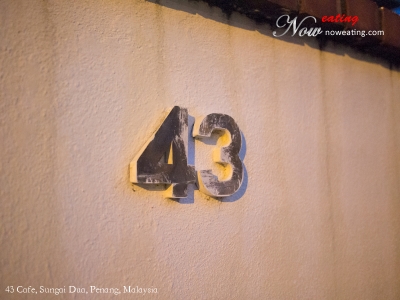 Why it is called "43" cafe? Why not 4896 or 69 cafe? The reason is simple – that's their house number.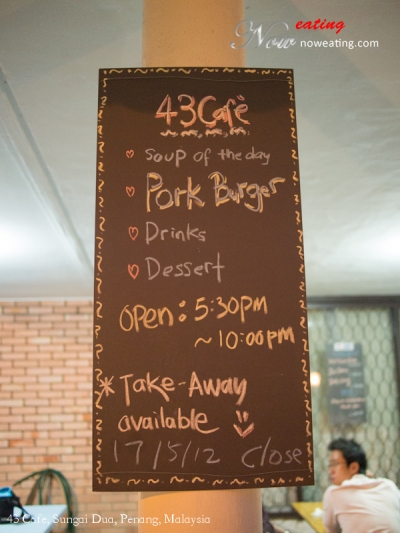 The business starts at 5:30pm each day until burgers sold out. During weekend or holiday, burgers can be sold out as early as 7pm.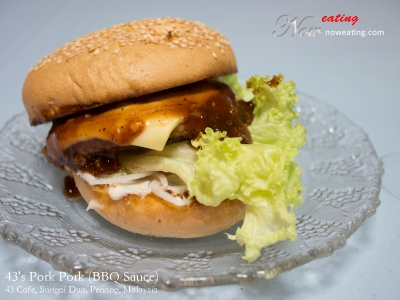 The burger comes in three favors – original, BBQ, and Black Pepper. Original basically contains no additional sauce (and hence is RM0.50 cheaper). Picture above shows 43's Pork Pork contains single patty and topped with homemade BBQ sauce (RM5.50). By the way, the patties were baked in special oven so that no extra oil is required. This made the patties less oily and kept its original taste. The only drawback was that it took more time to prepare.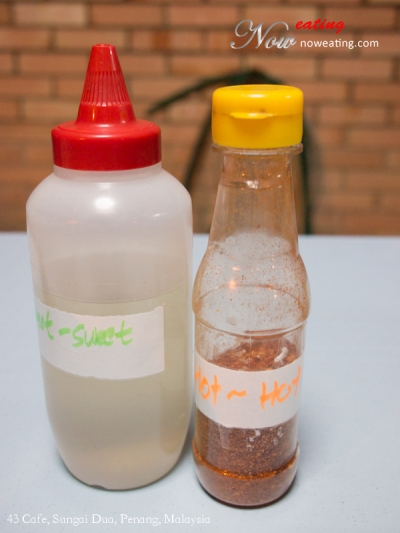 If you prefer something spicy, you may add chili flakes provided. The bottle on the left is sugar, not glue.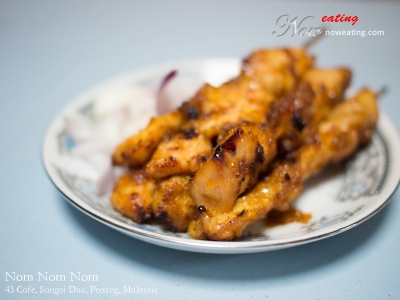 Other than burgers, 43 Cafe have other specialties as well. However, as Jacgy was loaded with burger preparation each day, some items may have to be removed from the menu in future, such as this yummy "Nom Nom Nom" chicken satays (RM1.00 per skew. Minimum 6 skews per order). We were lucky enough to have this satays that evening. Unlike traditional satays which were prepared on grill bars with charcoal, "Nom Nom Nom" was baked in oven and hence the meat was juicier. The satays were coated with spicy peanut sauce before serving. "Nom Nom Nom" is basically the sound when you eat those satays. For me, they ended so fast that I could only hear my friend screamed "Noooooo!".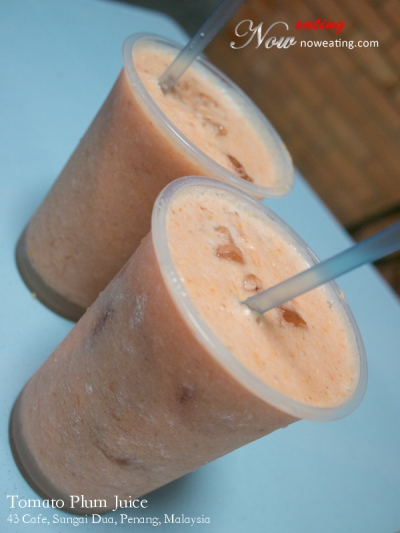 Last but not least, Tomato Plum Juice (RM3.50) is irresistible. According to the menu – 100% pure tomato blended with sour plum with no added water or sugar. At first I was skeptic on the taste but surprisingly it tasted good. Definitely a healthy choice.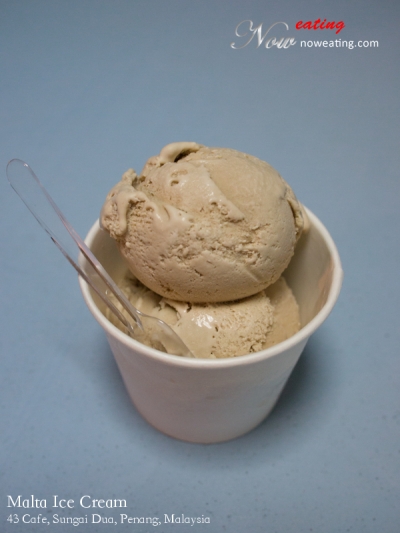 We were treated with homemade Malta ice cream that evening. This is one of the specialties not found in the printed menu. Kudos to Jacgy – an IT-experts-turned-burgerman.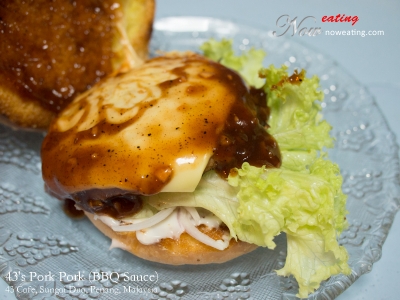 With the introduction of 43 Cafe, I have to redefine the "Fast Food", such as fast food is not always fast and is not always unhealthy. Targeted for USM students and youngsters like me, the resident-turned-cafe house at Sungai Dua opens at 5:30pm each day. No more Hatyai trip just to eat pork burger at McD there. Make sure you arrive early or call Jacgy for "burger reservation".
| | |
| --- | --- |
| Place Name: | 43 Cafe |
| Cuisine: | Western |
| Address: | 43, Jalan Sungai Dua, Sungai Dua, 11700, Penang, Malaysia |
| Tel: | +60164307009 (Jacgy) |
| Working Hour: | 5:30PM - 10:00PM Daily |
| Tax: | No |
| Last Visit: | 20120514 |