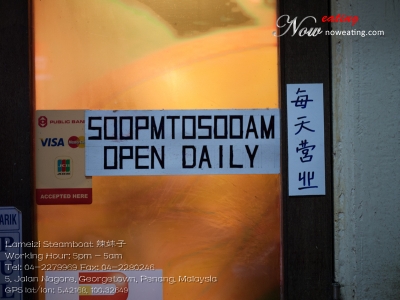 Back in year 2010, I reviewed about Lameizi at Krystal Point. Recently, its main branch at Nagore Road, Penang was visited. When I enter this restaurant, I stopped in front of their glass door for a while, looking at the working hour for few minutes. 5pm to 5am? That's crazy!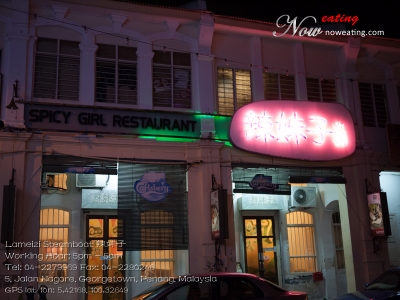 After explaining by the fierce-looking but friendly restaurant owner – Mr. Tan, it appeared that the business hour is to cater for working adults who don't have much time to enjoy steamboat during day time. Steamboat should be enjoyed slowly and hence Mr. Tan opens his business during night time.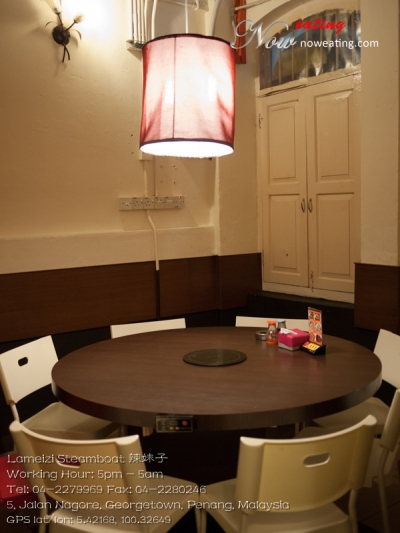 Inside the restaurant, there are two dining areas – open space and private room. Some private rooms even equipped with a toilet.
To call for service, just press the button on a device provided on each table. A waiter will approach you in short time.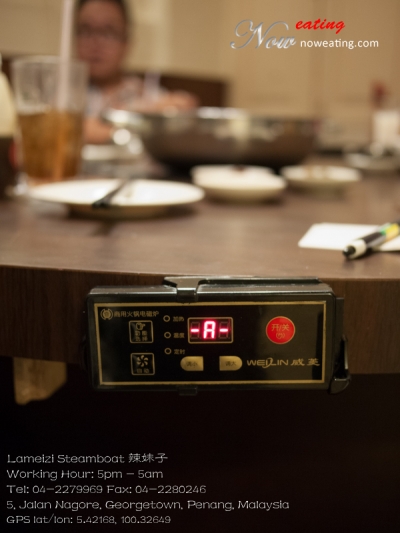 Under the table, you will see a control panel. The steamboat is heated using an electrical cooker. You can adjust the heat using the panel. As a rule of thumb, set it to the max when cooking ingredients, set it to minimum when you are busy enjoying the food or the soup base becomes low.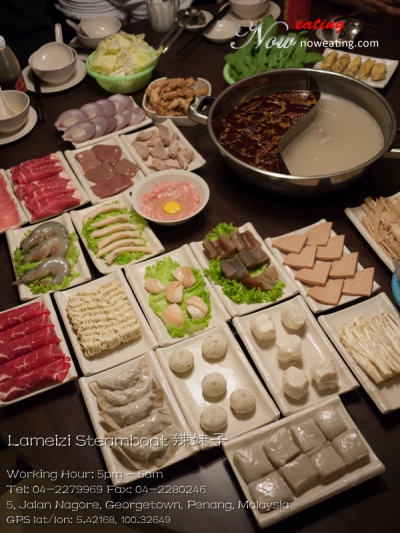 There are total of 11 soup base and 132 ingredients to be chosen. Of course I can't cover every single item in this post but for now, I will cover some of the famous soup and ingredients.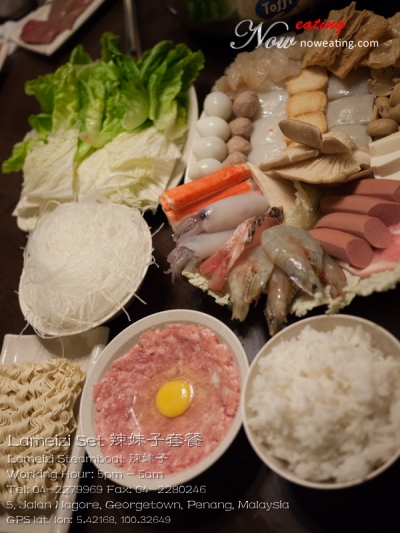 First, lest's start with the one and only one Lameizi  Set (RM38) for 2 to 3 pax. The price does not include steamboat soup base. Figure above shows items you will get in the set meal, including rice, instant noodle, rice noodle, minced pork paste, and assorted seafood and vegetables.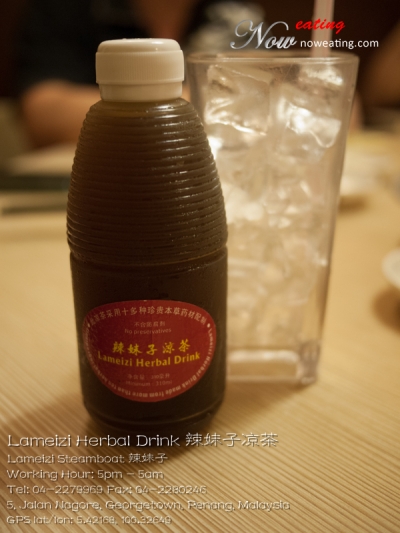 Before I proceed, allow me to remind you that this post is flammable and is best equip with a fire extinguisher, such as Lameizi Herbal Drink (RM3.50) which is specially prepared by Lameizi.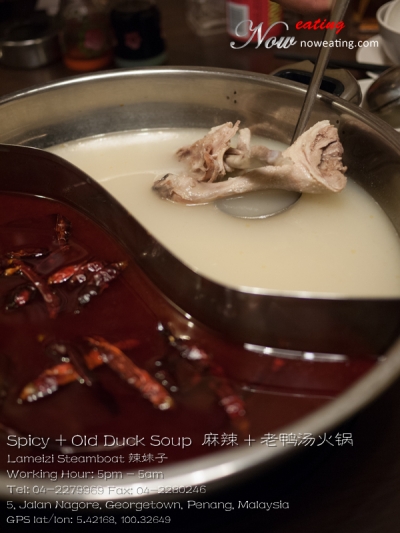 For the soup base, the most famous one is Spicy Steamboat 麻辣锅 (RM10.50) and Old Duck Soup 老鸭汤 (RM11.50). As the name applies, spicy steamboat is in fact extremely spicy which will stunt your tongue in a blink of eye. Personally, I prefer Old Duck Soup.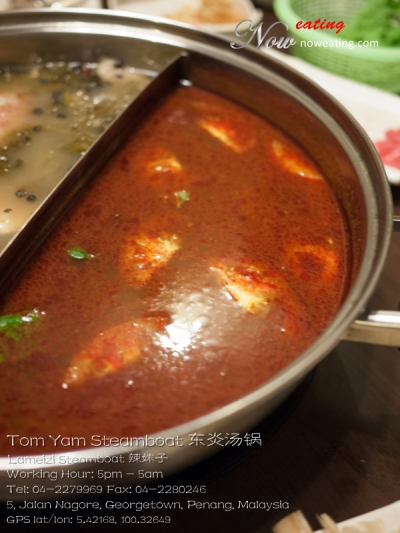 While Spicy Steamboat is purely spicy (and paralysing), Tom Yam Steamboat 东炎汤锅 (RM10.50) is spicy with added herbs. It is also a common soup base in most steamboat restaurant.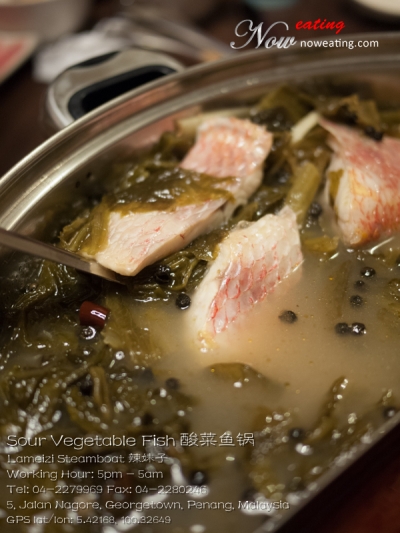 In Lameizi, the soup base is not purely soup. Sour Vegetable Fish 酸菜鱼锅 (RM28) for example, is another spicy + sour base soup with added vegetables and snapper fish in which you can just eat it on its own.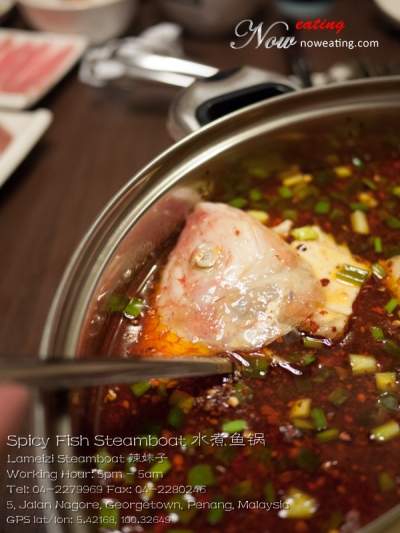 How many spicy soup base is enough? Spicy Fish Steamboat 水煮鱼汤 (RM28) will make you sweat the moment you see it.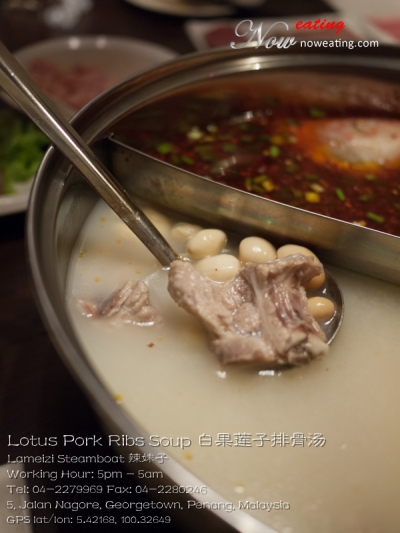 Lotus Pork Ribs Soup 白果莲子排骨汤 (RM18.80) is a new soup base. Definitely a healthier choice.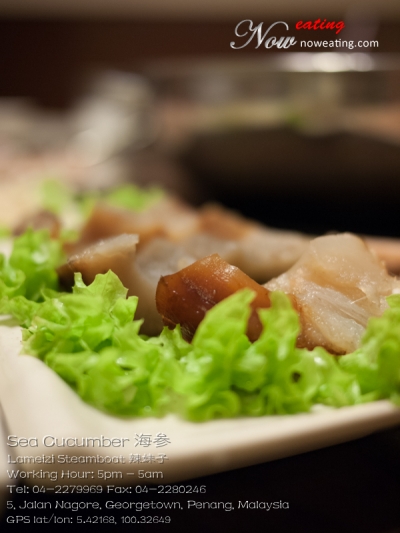 As for the ingredients, you can pick the ingredients of your choice from the order chit provided. Sea cucumber, for instance, priced at RM15 which personally I feel that it is quite reasonable.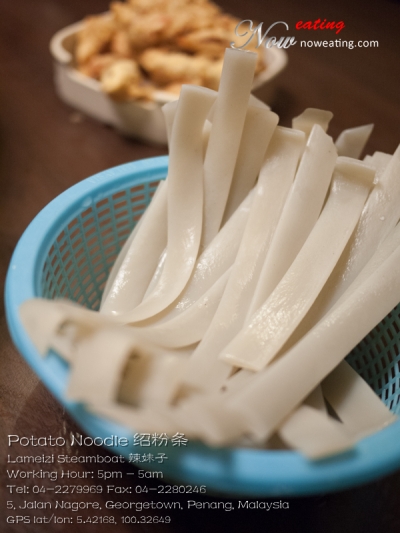 Some people like to enjoy steamboat together with a bowl of rice or noodle. In Lameizi, you may try their unique Potato Noodle 绍粉条 (RM2.50) imported from China.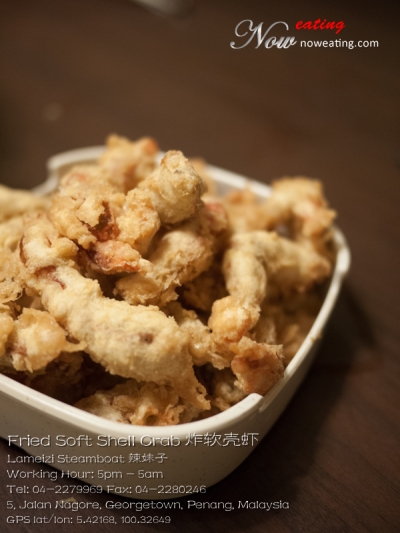 There are also few kinds of fried stuff which are best consumed with a glass of beer. Fried Soft Shell Crab (RM12.50) tastes good.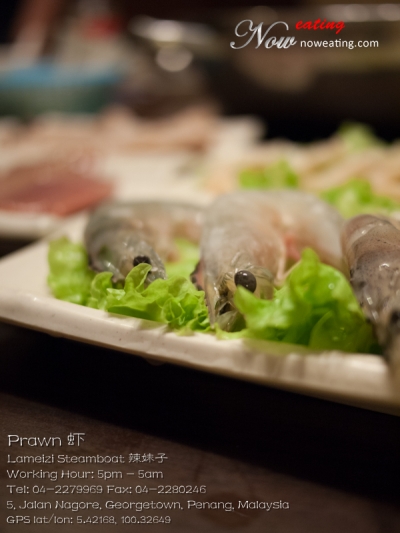 With more than 10 soup base and 130 ingredients, Lameizi is serious in serving customers with their best quality of steamboats. If you are craving for steamboat in the middle of the night, do pay Lameizi at Nagore Road, Penang a visit. Two branches are also available available at Krystal Point and Bandar Baru Medan Ipoh.
As for the price, you may refer to order chits below. Price subject to change without prior notice.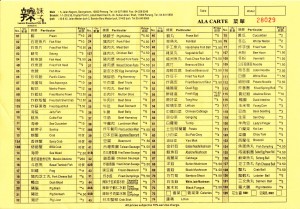 | | |
| --- | --- |
| Place Name: | Lameizi 辣妹子 |
| Cuisine: | Chinese |
| Address: | 5, Jalan Nagore, Georgetown, 10050, Penang, Malaysia |
| Tel: | Tel: +604-2279969 Fax: +604-2280246 |
| Working Hour: | 5pm - 5am daily |
| Tax: | 10% Service Charge |
| Last Visit: | 20130107 |