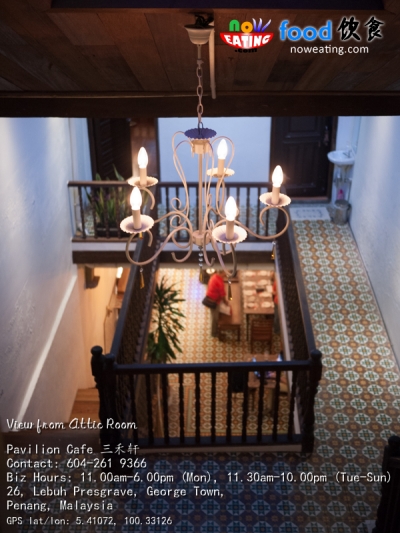 Ah, a heritage building with classic tiles, wooden staircase, and chandelier. Such building is no stranger in Melaka but thankfully, you still can find such buildings in Penang despite of rapid development, such as this Pavilion Cafe 三禾轩.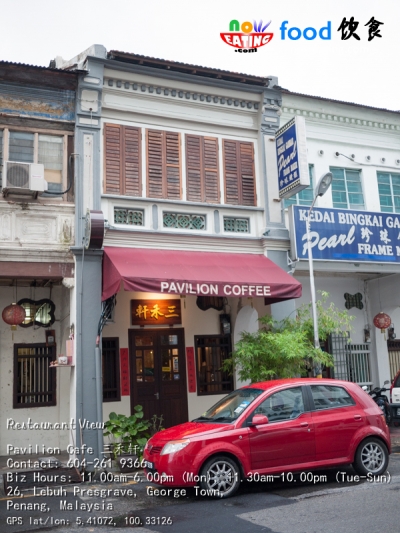 Pavilion Cafe is located opposite of Kwong Wah Yit Poh main office at Lebuh Presgrave. Parking is a bit limited along Lebuh Presgrave. Alternatively, you may park your car along Jalan CY Choy and walk to Lebuh Presgrave.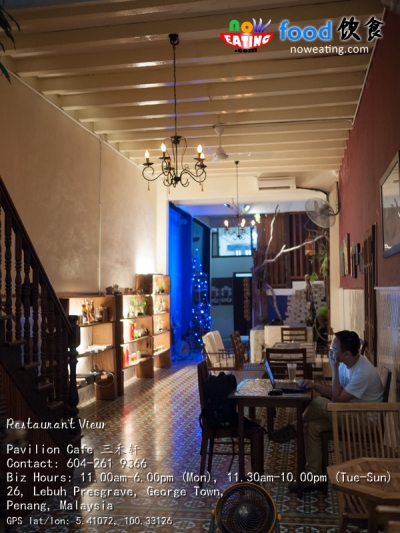 The dining environment is pretty impressive, in which the old building is repainted and renovated with wall art, better lighting, zakka cabinet, and fish pond.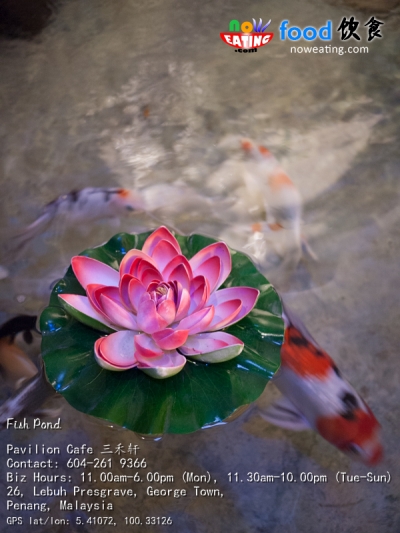 I like their fish pond very much (actually I like Koi fishes even more). It is one of my dream to have a home with fish pond like this.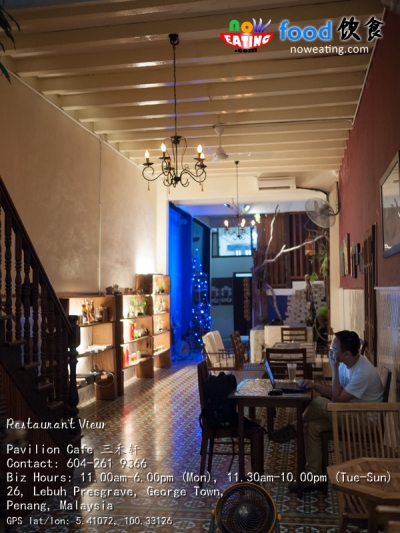 The Pavilion Cafe itself is good enough to be a decent cafe with unique Taiwanese Fusion cuisine. We visited it one evening and surprisingly there were not many customers. We were introduced with some of their signature drinks: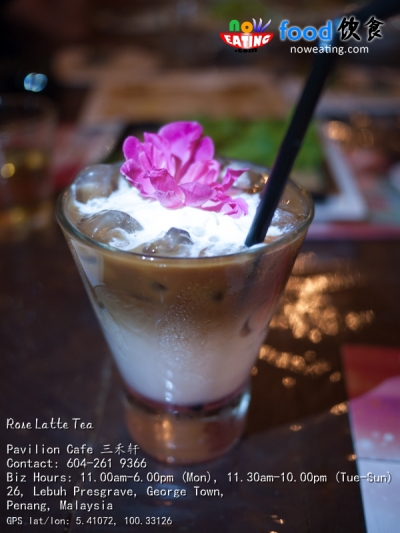 Rose Latte Tea (RM9.90) – Latte with added aromatic rose syrup.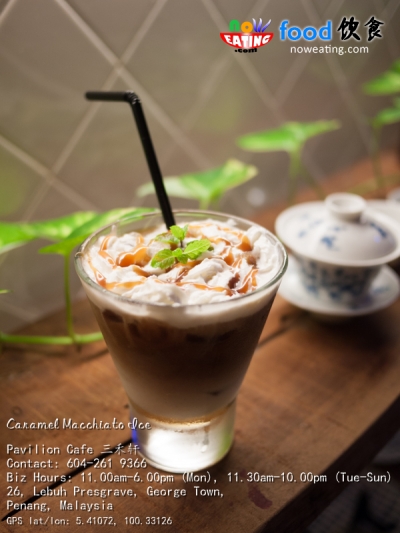 Caramel Macchiato Ice (RM9.90)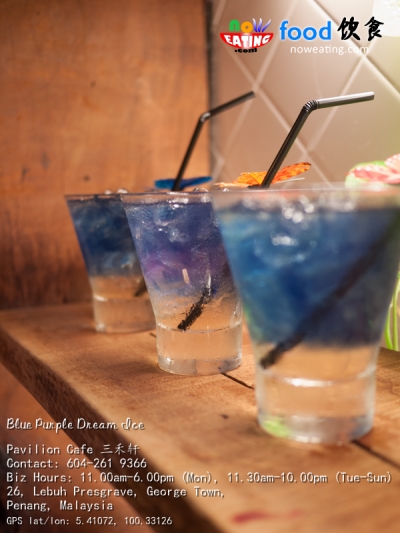 Blue Purple Dream Ice (RM8.90) – A new signature drink made of butterfly pea flower (aka blue flower). It is also fun to play with. A slice of lemon will turn the blueish drink into purple in color. Blue flower is traditionally used for memory enhancer and anti depressant.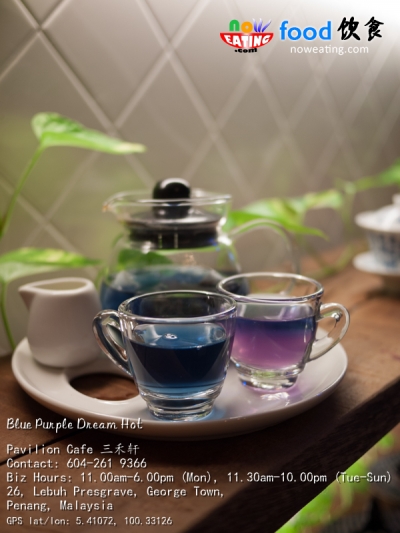 Blue Purple Dream Hot (RM10.90) – Personally, I opt for hot version as it comes with a teapot and is refillable. Taste-wise, it is like Tang Yuan (glutinous rice ball) soup. The more you drink, the more you miss Tang Yuan.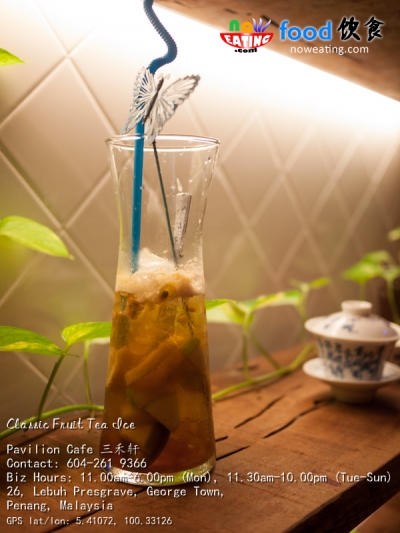 Classic Fruit Tea Ice (RM8.90) – A bit mild for my liking. I wonder why they don't wanna fill up the whole glass.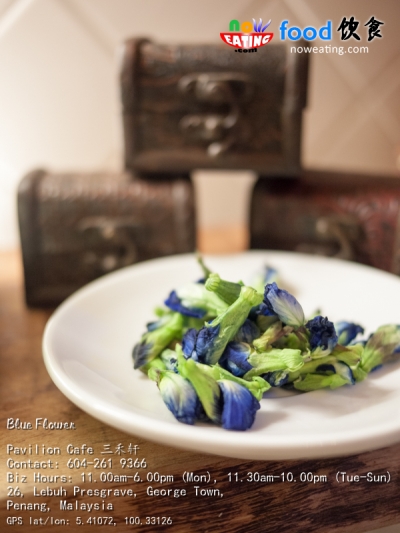 Overall, their drinks are best consumed immediately or else they may be diluted with ice. My favorite drink is still the Blue Purple Drink, even though it may taste weird if you are not used to flower tea. We were also being introduced with some of their signature dishes, including: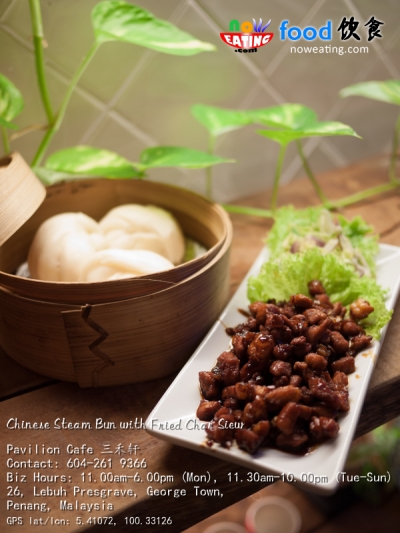 Chinese Steam Bun with Fried Char Siew (RM10.90) – The Char Siew is nicely stir fried and best stuff with the bun provided before consuming.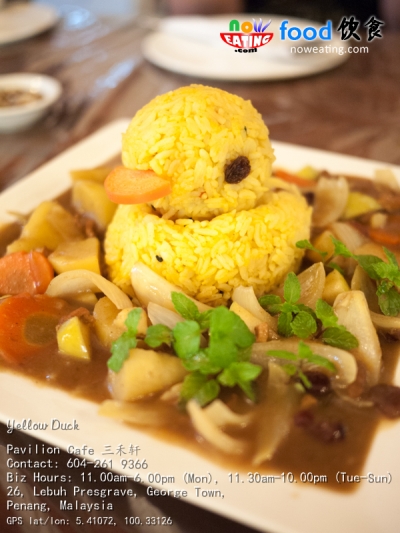 Yellow Duck (RM10.90) – One of the most popular dishes in Pavilion Cafe. It resembled the floating Yellow Rubber Duck. It is basically steamed rice coated with turmeric powder, served with Japanese curry. Definitely will attract many youngsters like me.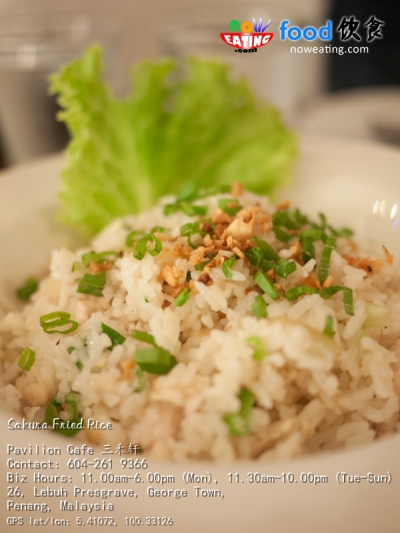 Sakura Fried Rice (RM9.90) – A common fried rice with dried shrimps, fried garlic, spring onion, and peeled prawns.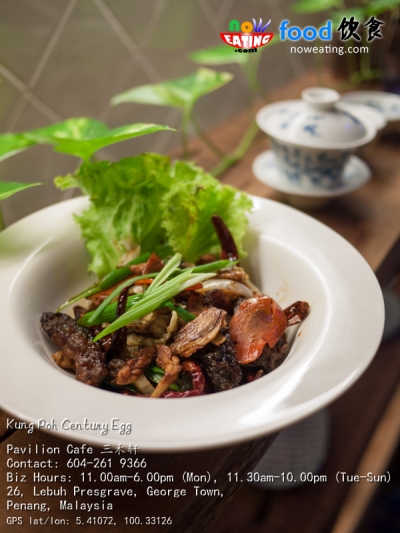 Kung Poh Century Egg (RM10.90) – A unique dish. When the dish first arrived, I thought it was the usual Kung Poh Mantis Prawn until I tried the "mantis prawn" to find out that it was actually century egg 皮蛋.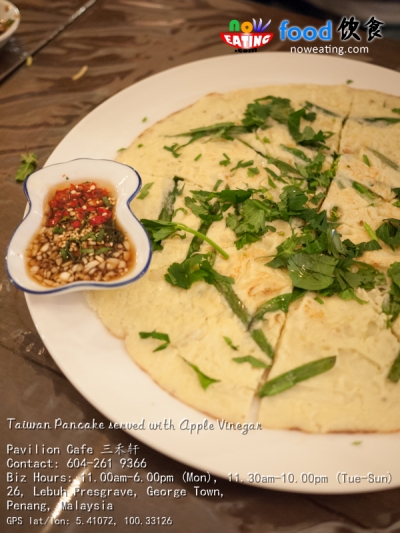 Taiwan Pancake served with Apple Vinegar (RM8.90) – The pancake reminded me of the pancake my family used to make. A plain and simple dish. A bit like Roti Najib minus the chewiness. Beware of its bird eye chili, one of my friends had his head in fish pond after accidentally ate it.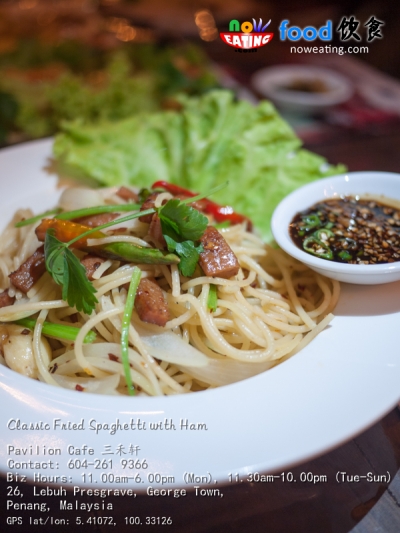 Classic Fried Spaghetti with Ham (RM10.90) – A typical fried spaghetti. It may taste a bit plain for some and best mix with the spicy soy sauce provided.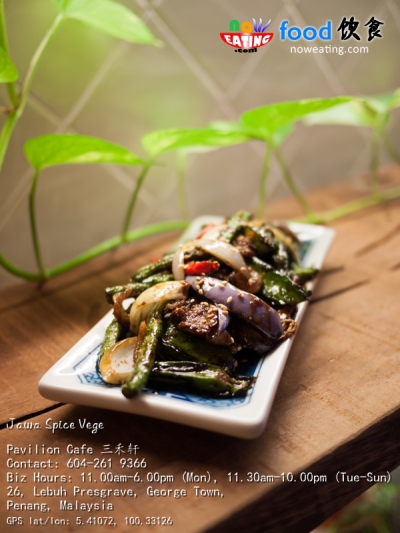 Jawa Spice Vege 爪哇三形菜 (RM10.90) – A new item which is only shown on blackboard at the entrance. Instead of common "Four King" 四大天王 found in Chinese restaurant, Jawa Spice Vege consists of only egg plant, winged bean, and long bean.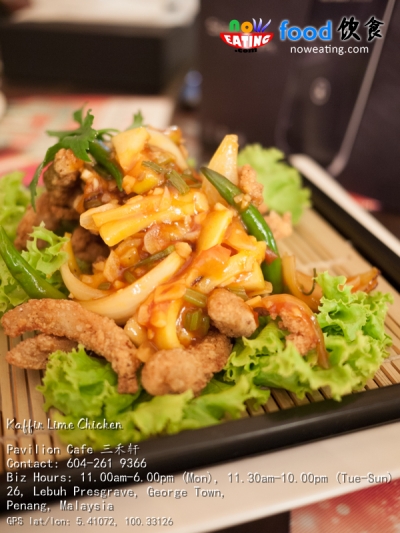 Kaffir Lime Chicken (RM9.90) – The deep fried de-boned chicken is topped with sweet and spicy sauce, mango and onion.
As a whole, the food has adequate "wok hey" and "kick" to consider it as proper meal for lunch or dinner. They also used better ingredients compared to some Choo Char restaurants. The portion can be a bit small. Some dishes (e.g. Kung Poh Century Egg, Fried Four Season French Bean) are best consumed with rice. The price is considered reasonable considering its comfy environment with free WiFi.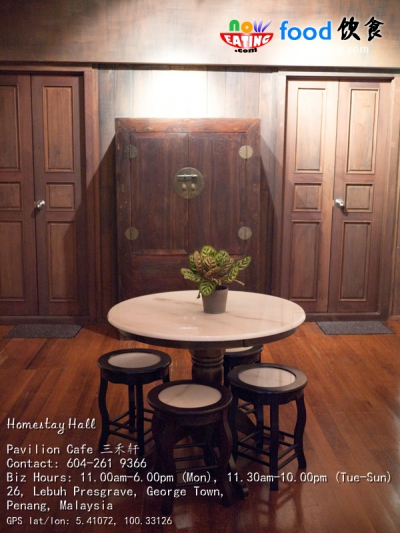 I wish I can stop writing here but Pavilion Cafe is more than just a cafe. It is a homestay as well. First floor of the cafe is converted into a guesthouse.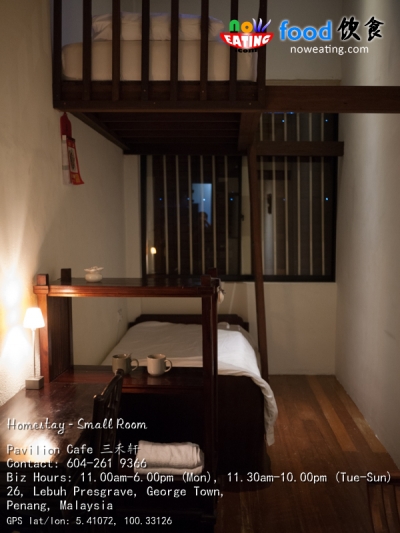 On the first floor, it has 3 rooms. two of them are small rooms with a single double-decker at the price of RM100 per night (with shared bathroom).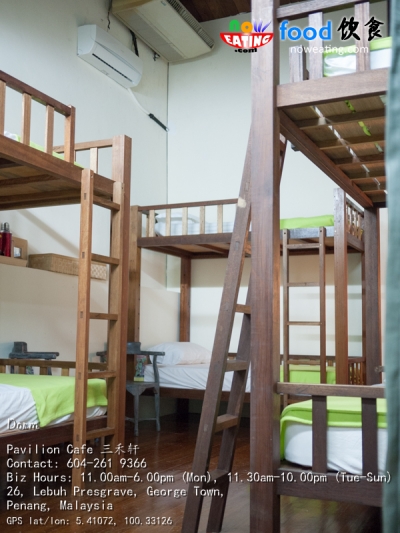 Another one is a dorm with three double-deckers and private bathroom (RM300).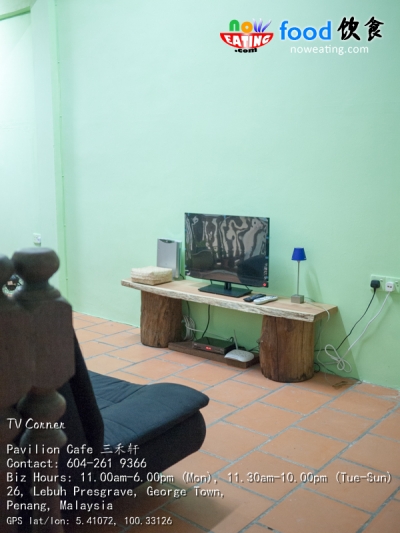 Behind the dorm is a small relaxation area with an LCD TV.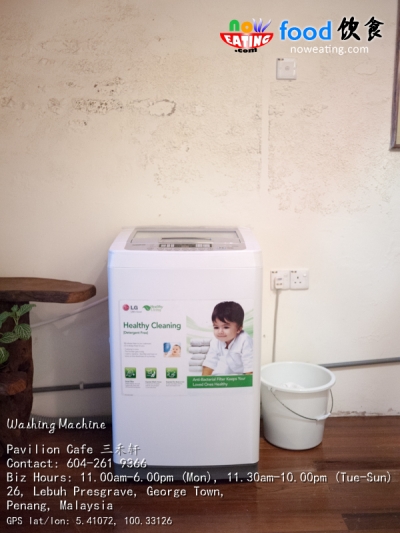 A washing machine is also available for guests to wash their cloth.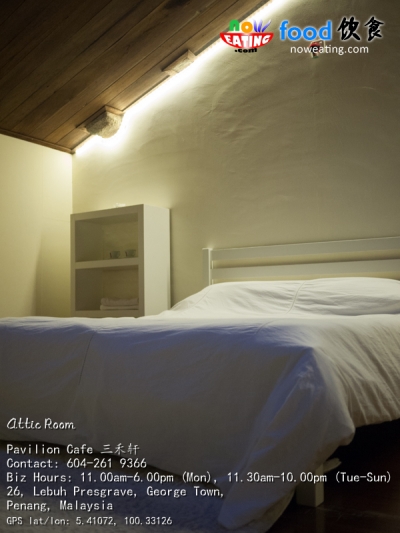 A narrow staircase will led you to the attic, in which it is converted to another room for two (RM120). Personally I like this room the most (except it still does not have private bathroom). All rooms are air-conditioned. One point worth taking note is that the rooms are probably not soundproof due to wooden floor so make sure not to scream too loud at night.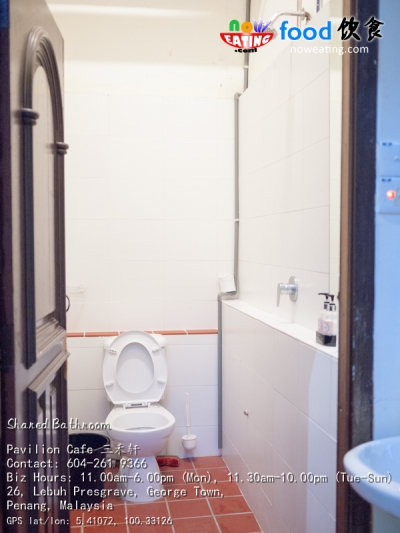 Despite of having only shared toilet/bathroom, it is very clean with hot shower, body/hair shampoo and water pipe (a must for Malaysian).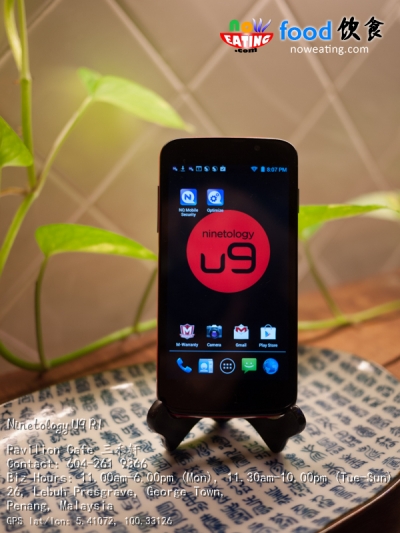 Last but not least, it was also a Ninetology event and we received randomly a gift of either a "Movie Ticket for 2" or a "Ninetology Powerbank", sponsored by Ninetology Marketing Sdn. Bhd. There were also a few models of mobiles for us to try out during the food review such as the Ninetology U9R1, U9X1, U9Z1, U9Z1+ and Ninetology Stealth 4X.  I will cover more detail on U9 R1 in my new tech blog – Little CPU. For official specs, click on the link below:
U9 R1: http://www.ninetology.com/u9/products/r1/
U9 X1: http://www.ninetology.com/u9/products/x1/
U9 Z1: http://www.ninetology.com/u9/products/z1/
U9 Z1+: http://www.ninetology.com/u9/products/z1plus/
Stealth 4X: http://www.ninetology.com/malaysia/products_smartphones_stealth4x.html
Comparison & Pricing please refer to this site: http://www.facebook.com/NinetologyMalaysia/app_478239202210523
Pavilion Cafe and Homestay 三禾轩 is perhaps one of the rare homestays in which you will move your butt to its cafe downstair for Taiwanese Fusion cuisine instead of looking for food out there. Located opposite of Kwong Wah Yit Poh main building at Lebuh Presgrave, Penang, this renovated old building is definitely worth sacrificing some shutter counts.
| | |
| --- | --- |
| Place Name: | Pavilion Cafe 三禾轩 |
| Cuisine: | Chinese |
| Address: | 26, Lebuh Presgrave, George Town, 10300, Penang, Malaysia |
| Tel: | 604-261 9366 |
| Email: | [email protected] |
| Website: | http://www.facebook.com/pavilioncoffee26 |
| Working Hour: | 11.00am-6.00pm (Monday), 11.30am-10.00pm (Tuesday-Sunday) |
| Tax: | No |