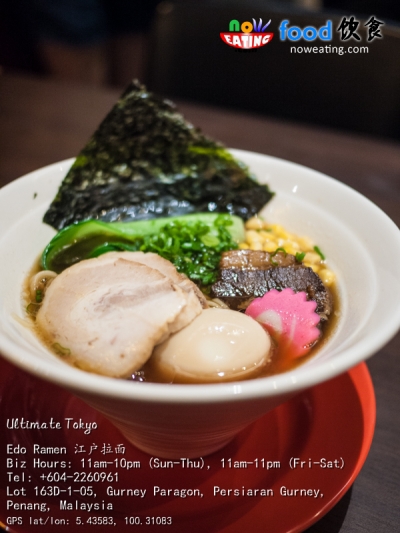 For me, Japanese ramen is a luxury item in Malaysia. You can easily spend RM30+ per person in any Japanese ramen restaurant just to have a bowl of noodle which in some cases, you still feel hungry after the meal. Luckily for the new Edo Ramen at Gurney Paragon, now everyone can eat (ramen) with price starting from RM9.90++.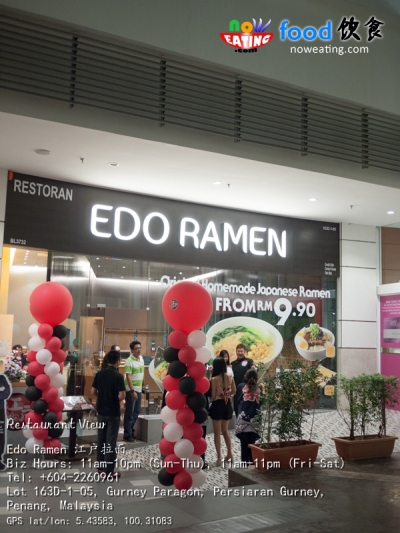 Previously hosting Goku Raku Ramen, Edo Ramen is under the same management of Goku Raku. Opened since 7th April 2014, instead of providing customers with ramen of more varieties at premium price, Edo Ramen changed its strategy to "quick service at an affordable price". Personally, I think this is a good start considering many competitors around but none of them providing a menu most locals can afford.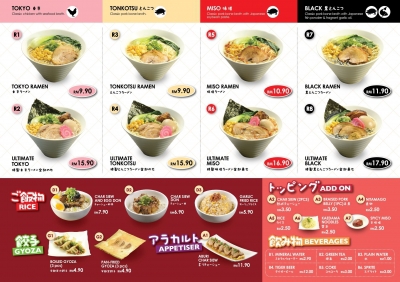 Having said that, their menu items are greatly reduced to 8 ramen items in four types of soups:
Tokyo (Classic chicken with seafood broth)
Tonkotsu (Classic pork bone broth)
Miso (Class pork bone broth with Japanese soybean paste)
Black (Classic pork bone broth with Japanese fish powder & fragrant garlic oil)
For each type of soup, there are two categories of topping:
Standard topping with Char Siew (x1), Sweet Corn, Pak Choy & Spring Onion
Ultimate topping with Char Siew (x2), Sweet Corn, Pak Choy, seaweed, braised pork belly, Japanese fish cake, lava egg & Spring Onion.
To ensure that the ramen meets the standard, Edo Ramen hires a notable ramen connoisseur – Mr Tetsuya Fukino (pronounced as Foo-Ki-No. Pronounce in English way and you may end up in trouble) to create the recipe and supervise the kitchen. For beginners, Edo Ramen recommends you to begin with Tokyo series but personally I would say you can go with any series. The different is on the soup – from lightest to richest.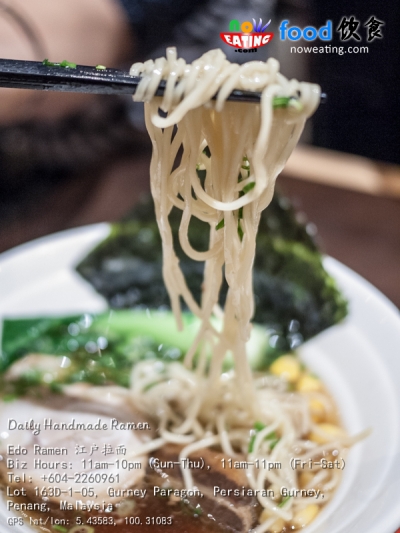 All Tonkotsu broth is boiled over medium to high heat for as long as 12 hours. Depend on your liking, you may try the default version, Miso version, or the Black version which tastes richest among others. Similar to most noodles, Japanese ramen is best consumed as soon as it is served (e.g. within 10 minutes).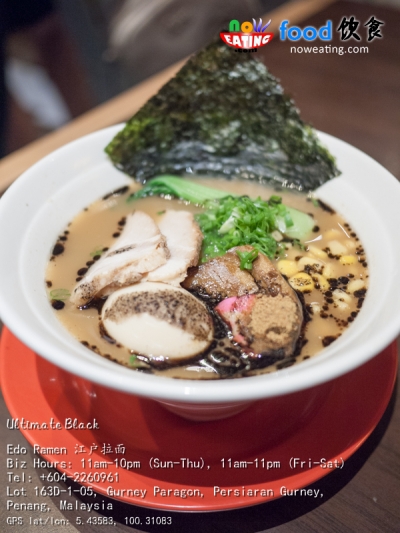 Personally, I prefer Black series as it has the richest taste. It comes with Okaka powder 柴鱼粉 and garlic oil which enhance overall flavor so make sure you stir the soup well before eating to have greater taste. The ramen is firm and springy.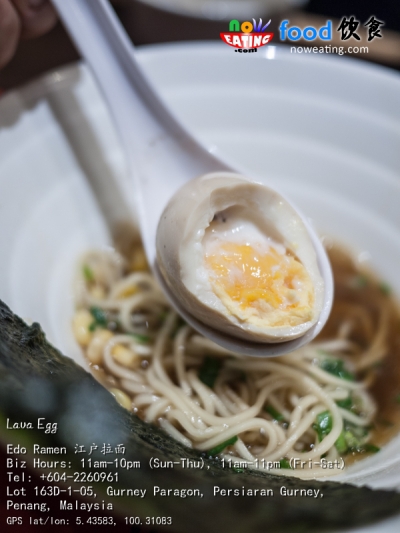 The soft-boiled lava egg has a solid egg white while the egg yolk is still running. It is marinated in sauce for hours before serving. For Penangites who like spiciness, they may find themselves disappointed with the "mildness" of their ramen but they are always welcomed to add Spicy Miso at only RM2.50++. It is a spicy paste which convert ramen into spicy version.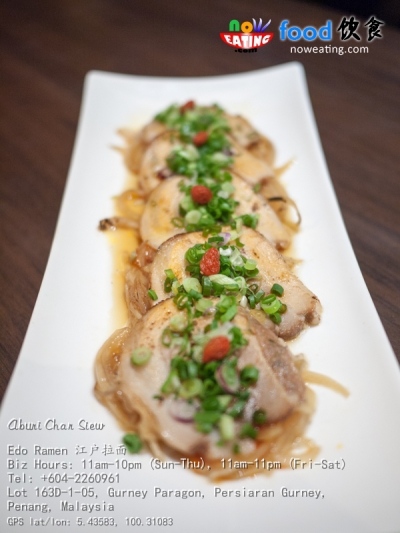 Other than ramen, they do have appetizer, rice and Gyoza (dumpling) as side dishes. If you are a Char Siew lover, you may order their flame-grilled Aburi Char Siew (RM11.90++) sauteed with onion.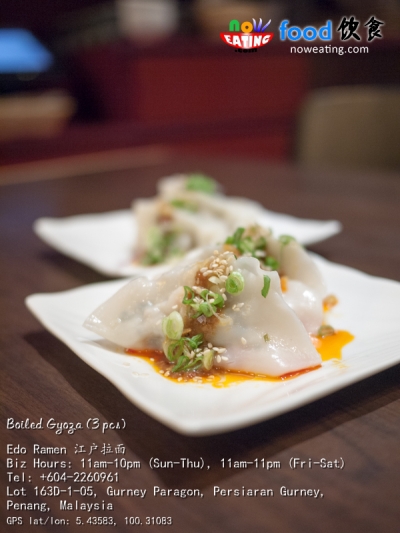 Gyoza  comes in two types – boiled and pan-fried. Each priced at RM4.90++ and came in 3 pieces. You, however, can get a boiled Gyoza for FREE if you spend RM30 from 11-April-2014 til 31-May-2014. Oh yes, you need to print and present the voucher out at the outlet when ordering. The voucher is available at the end of this post.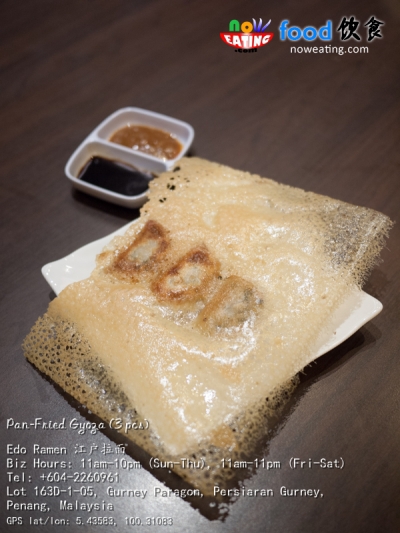 Unlike Taiwanese fried dumplings, the pan-fried Gyoza here is rather unique with a crispy skin which tastes like "Roti Tisu".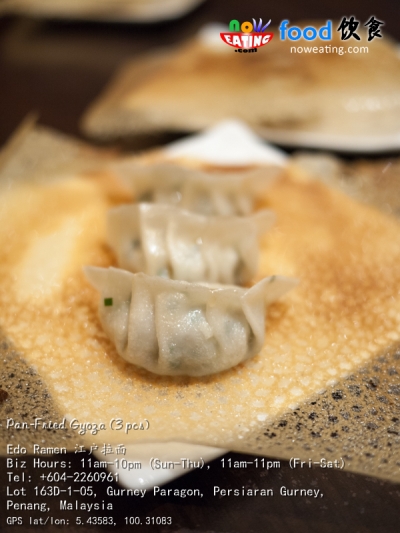 The dumpling is "hidden" below (by the way, this is the right way of serving even back in Japan).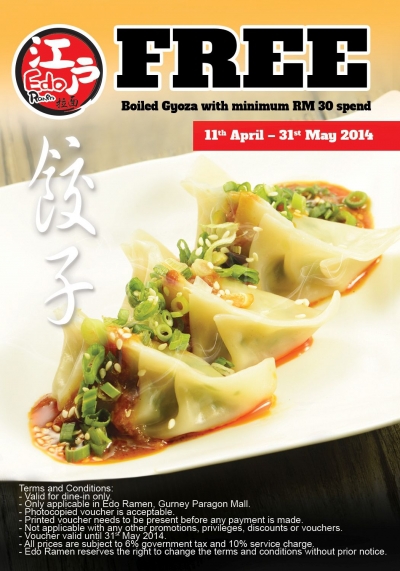 As a whole, Japanese ramen is getting more affordable (while maintaining its portion and quality) thanks to Edo Ramen.  Do visit this new Edo Ramen restaurant at Gurney Paragon, Penang for a quick meal.
| | |
| --- | --- |
| Place Name: | Edo Ramen 江户拉面 |
| Cuisine: | Japanese |
| Address: | Lot 163D-1-05, Gurney Paragon, Persiaran Gurney, Penang, Malaysia |
| Tel: | +604-2260961 |
| Working Hour: | 11am-10pm (Sun-Thu), 11am-11pm (Fri-sat) |
| Tax: | 10% Service Tax, 6% Government Tax |
| Last Visit: | 20140411 |