Previously, we introduced Heaven Gate together with its Wine Pairing dinner. Recently, they changed their ala-carte menu again as part of quarterly menu refresh so let us show you their new menu items.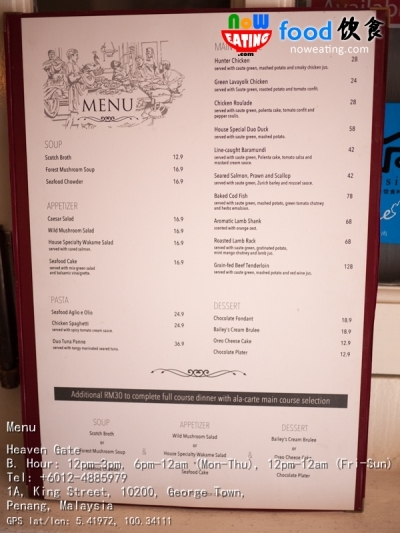 Before we start introducing new items, let us share with you some Heaven Gate updates. First of all, their business is expanding and managed to hire another chef to share his/her culinary experience. The new menu reflects the outcome of both Heaven Gate traditional cooking, together with new recipe from the new chef.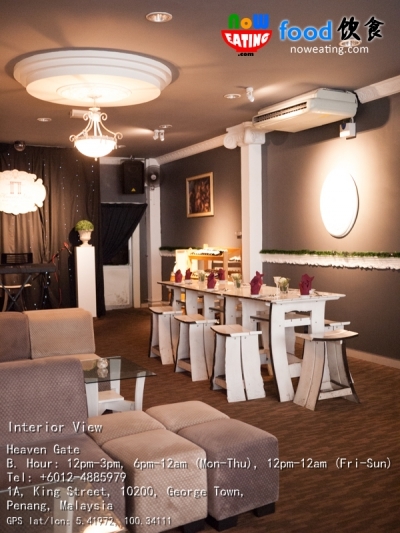 Secondly, their wine menu is updated as well. Thirdly, Heaven Gate managed to tie the knot for many couples. So in case you are looking a place for proposal, Heaven Gate is an option. Just talk to the restaurant staff and they are happy to help you preparing the surprise.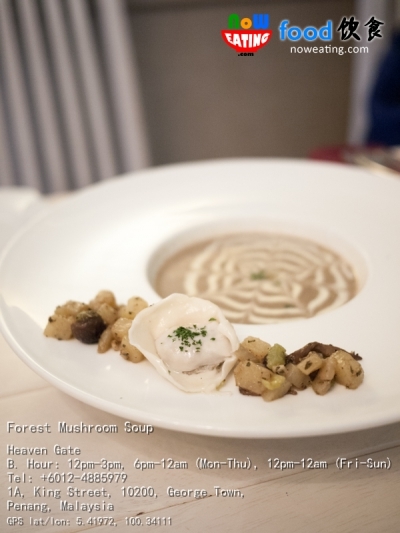 Let's begin with their soup. We were served with 3 different soups and they tasted differently compared to each others. Forest Mushroom Soup (RM16.90+) now comes with potato cubes sauteed with greens and a dumpling. The proper way to enjoy this mushroom soup is to put everything inside and stir well.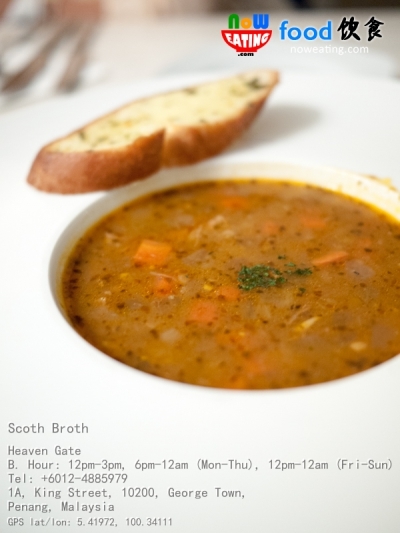 Originated from Scotland, Scotch Broth (RM12.90+) is suitable for veggie lover. The main ingredients are barley, chicken, and lots of vegetables.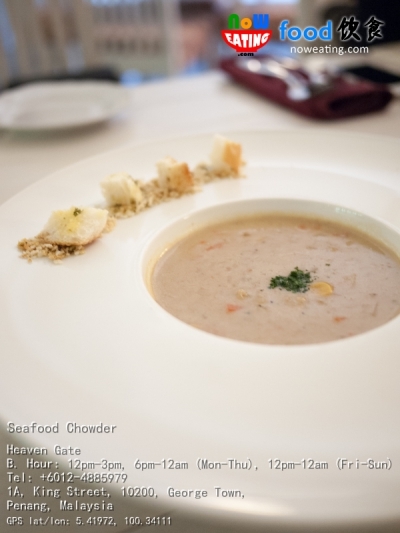 Seafood Chowder (RM16.90+) is a famous appetizer in San Francisco. Heaven Gate's version tastes richer with added corn, carrot, and fish. Overall, their soups are well positioned for three types of customers – those prefer light (Scotch Broth), classic (Forest Mushroom), and heavy taste (Seafood Chowder).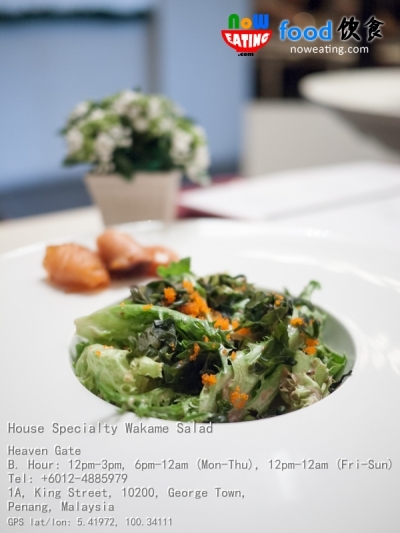 As for the appetizer, House Specialty Wakame Salad (RM16.90+) even though looks like common green salad, the addition of wakame (seaweed), roe and sesame oil make it quite appetizing.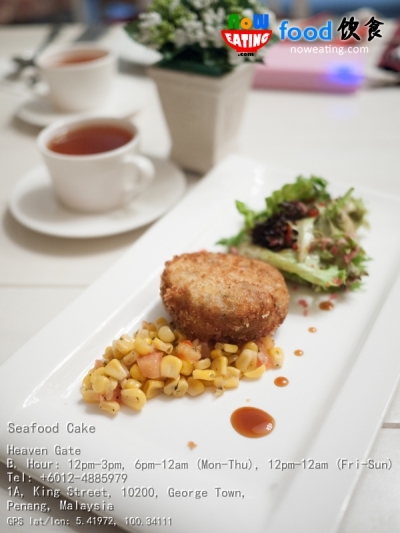 The homemade Seafood Cake (RM16.90+) is another appetizing item with ginger flower ground within it and comes with mix-green salad and balsamic vinaigrette –  homemade salad dressing made of vinegar and olive oil.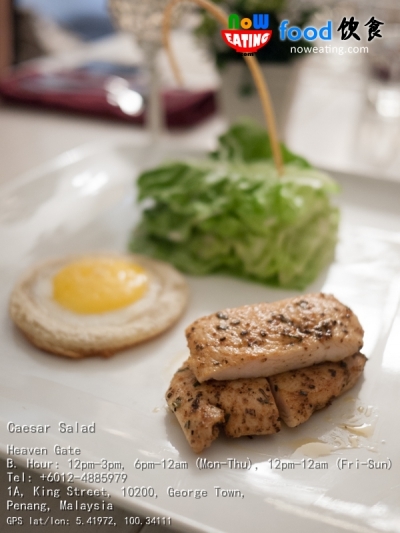 For me, this is more like "Cajun Chicken with egg"  than Caesar Salad (RM16.90+). The chicken is smoked and topped with herbs before serving. Among appetizer, I prefer Seafood Cake but if you are salad lover, you should go for House Specialty Wakame Salad.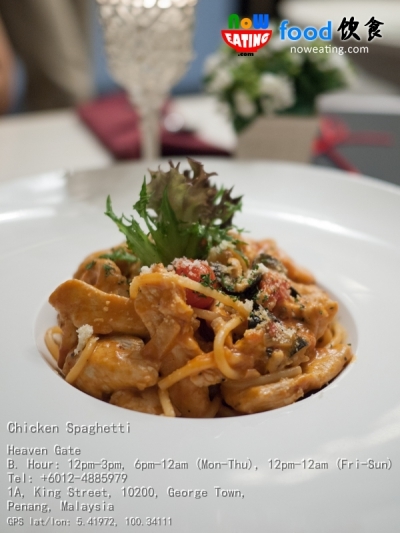 As for the pasta series, we were served with Chicken Spaghetti (RM24.90+) and Duo Tuna Panne (RM36.90+). Both are sauteed with white wine. Chicken Spaghetti is served with spicy tomato cream sauce. It is actually not spicy at all and less creamy compared to Duo Tuna Panne.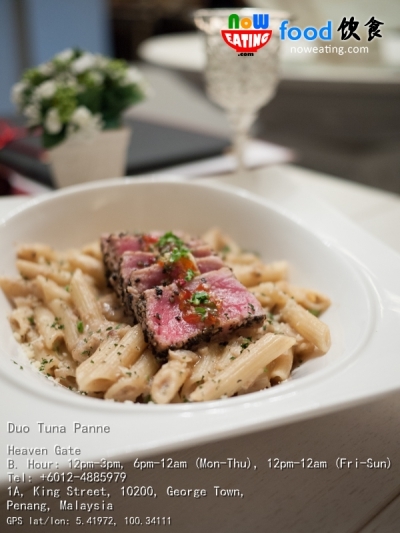 Duo Tuna Panne is my favourite. Firstly, the portion is suitable for big eater like me. Secondly, the tuna cubes on top is grilled to medium rare to ensure its juiciness. Thirdly, the Penne Rigate (the tube-like pasta) is coated with seared tuna, that is, almost whole plate is covered with tuna. Make sure you stir well as the tuna cubes are coated with a layer of crushed black pepper.  This item is best accomplished with a glass of red wine.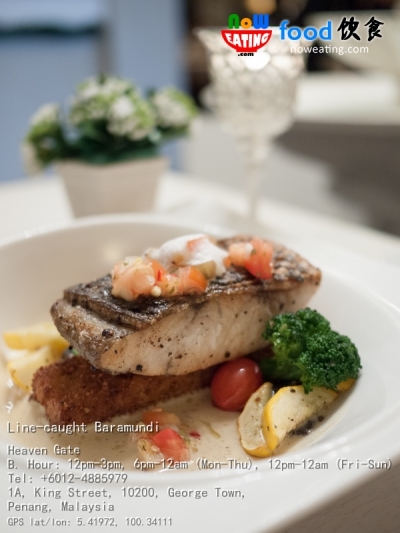 As for the main course, Line-caught Baramundi (金目鲈) (RM42.00+) is my favorite. It is served with saute green, Polenta cake, tomato salsa, and mustard cream sauce. The recommended way to consume this is to combine all ingredients together (especially the Polenta cake made with cornmeal) and put into your mouth.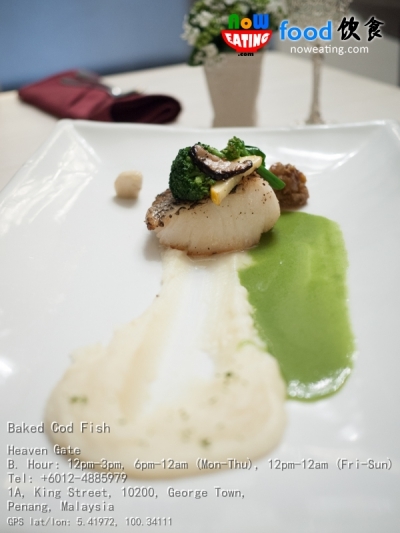 Baked Cod Fish (RM78.00+) is served with saute green, mashed potato, green tomato chutney and herb emulsion. An improved recipe here is the mashed potato, which uses potato imported from US. It is extremely smooth and will melt into your mouth the moment you put it in.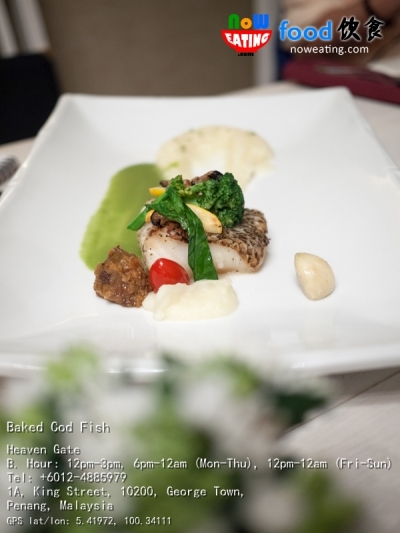 The sourly green tomato chutney works as an ignition switch to kick start your appetite.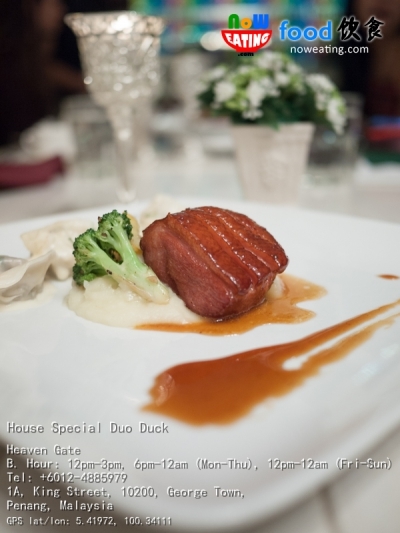 Previously we introduced their Roast Duck Breast. This time, they changed their recipe to House Special Duo Duck (RM58.00+).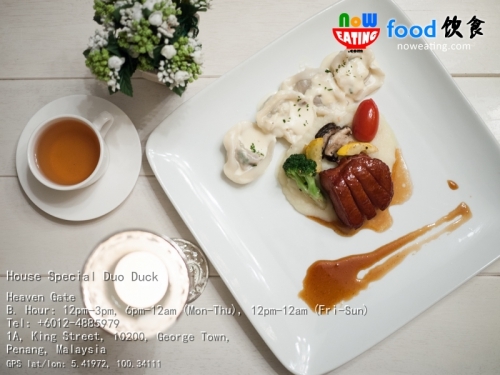 Other than the roasted duck breast, the dumplings behind are stuffed with duck meat as well, making it a "duo taste" dish. If you like Chinese roasted duck, this dish should be quite suitable for you as it has a trace of Chinese way of marination on the duck itself.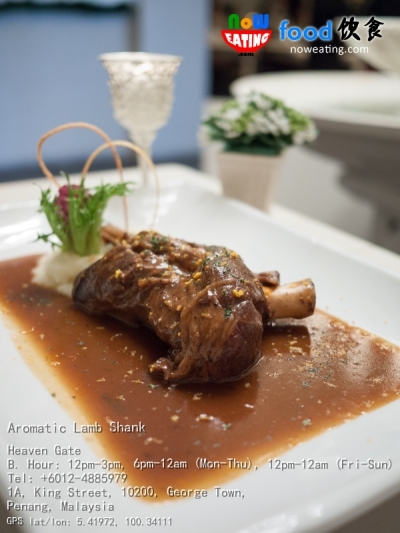 The only utensil required for this Aromatic Lamb Shank (RM68.00+) is a spoon. Yes, it is so soft that knife is not required. It is scented with orange zest, making the food delightful even towards the end of meal.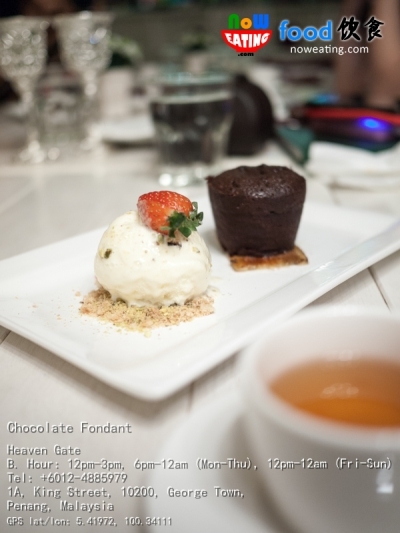 Finally, we were being served with three desserts. Chocolate Fondant (RM18.90+) is a must-try if you like mixture of hot and cold items such as choclate lava cake and the vanilla ice cream. It is also the most difficult dessert to prepare due to the lava cake. It requires 20 minutes for preparation with chef standing by to ensure that the cake is well done with running content.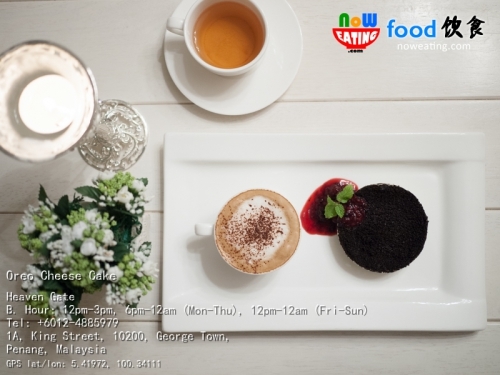 Oreo Cheese Cake (RM12.90+) comes with a hot Macchiato (espresso with milk). The Oreo cheese cake should be consumed immediately when the Macchiato is still hot.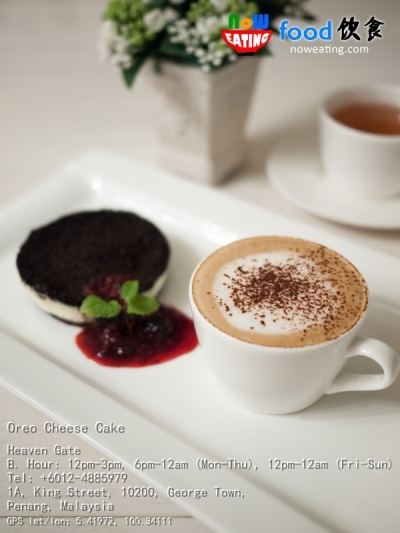 Dip the Oreo into the coffee and consume it. With right temperature, the cheese should melt in your mouth.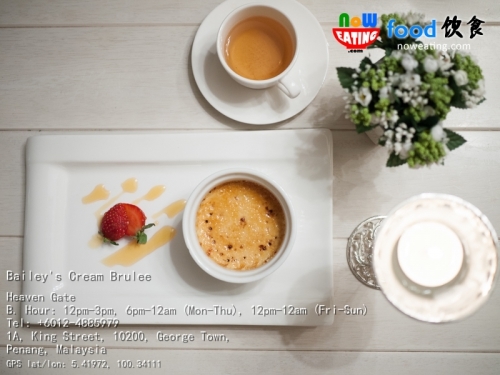 Bailey's Cream Brulee (RM18.90+) is my favorite, probably due to the fact that I like food with added alcohol, such as Baileys in this case. Baileys is a classic liqueur from Ireland made with Irish cream, Irish whiskey, and chocolate. A bottle of 700ml costs about RM120. The chef is generous enough to put in more Bailey so that the liqueur taste is still remained after the high heat.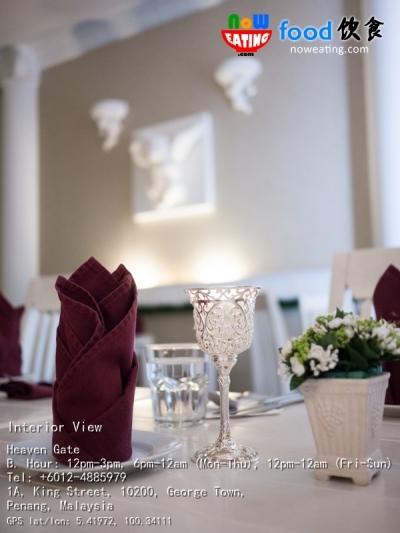 As a whole, Heaven Gate has improved their menu and recipe, making the food looks and tastes more matured. Do give this semi-fine dining restaurant a try. Did I mention that you can convert your ala-carte meal into set meal by just adding RM30 and you can select a soup, appetizer, and dessert of your choice?
| | |
| --- | --- |
| Place Name: | Heaven Gate |
| Cuisine: | Western |
| Address: | 1A, King Street, George Town, 10220, Penang, Malaysia |
| Tel: | +6012-4885979 |
| Email: | [email protected] |
| Working Hour: | 12pm - 3pm, 6pm-12pm (Mon-Thu), 12pm - 12am (Fri-Sun) |
| Tax: | 10% Service Tax |
| Last Visit: | 20140413 |