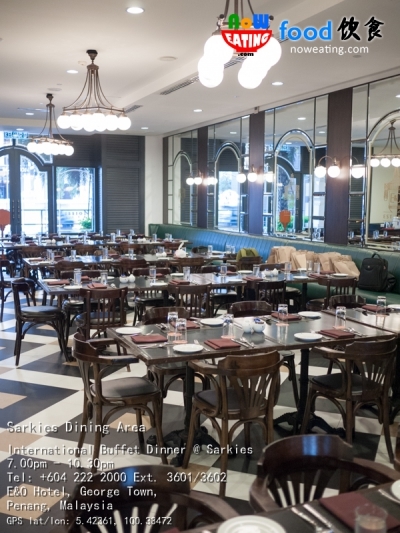 Starting November 2014, Eastern & Oriental (E&O) Hotel is pleased to offer you International Buffet at Sarkies restaurant in the premise.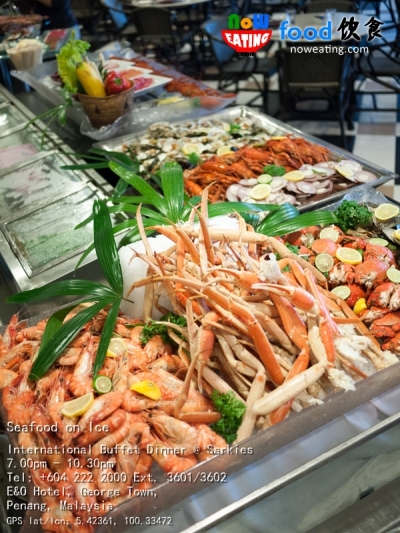 Previously, E&O Hotel was offering buffet with different theme depending on weekday. The most significant one being Seafood Extravaganza on Wednesday and Carvery Night on every Thursday. Starting November, E&O Hotel has only one buffet theme throughout the week – International Buffet.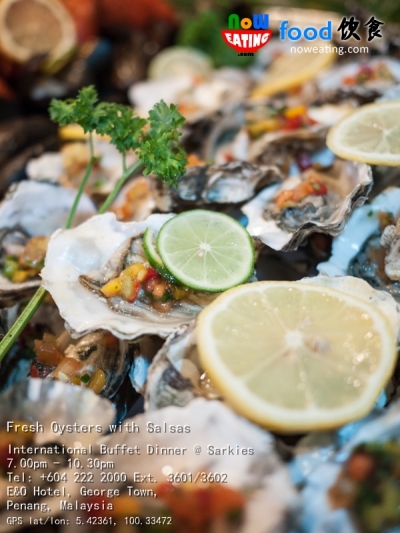 Even though it is called International Buffet, we found out that seafood is still dominating the buffet line, including a corner of fresh seafood on ice consisting of poached tiger prawns, New Zealand green mussels, Australian black mussels, poached king crab, fresh oysters with salsa, and yabbies.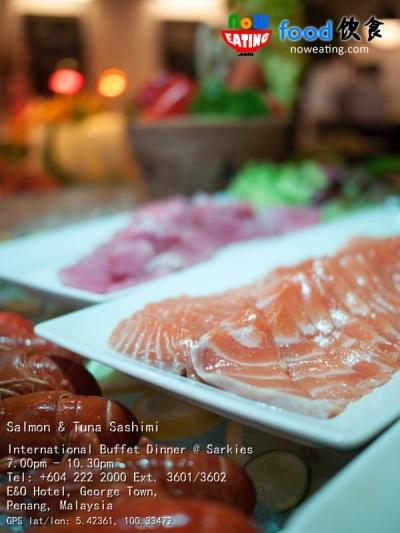 Walk around and you will find more seafood items, including baked oysters, fried whole fish, sashimi, cold cuts, and BBQ seafood items.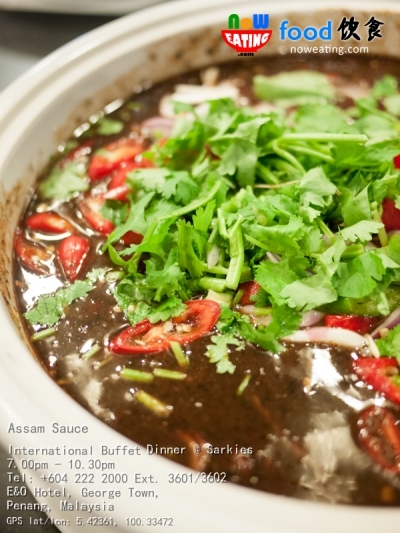 For BBQ items, again, remember to dip them with signature Assam Sauce available in front of the counter. The hot, sweet and sour sauce will simply tickle your taste buds.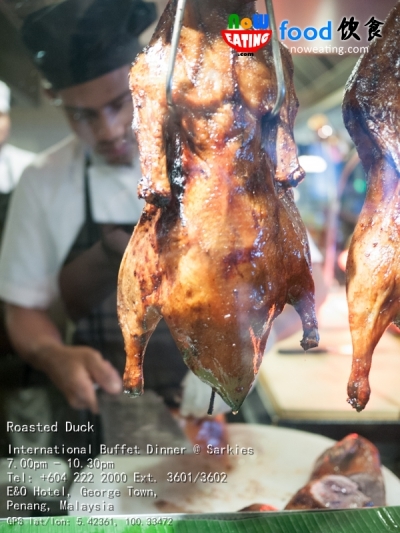 If you are a poultry lover, do try their signature roasted duck together with the duck sauce.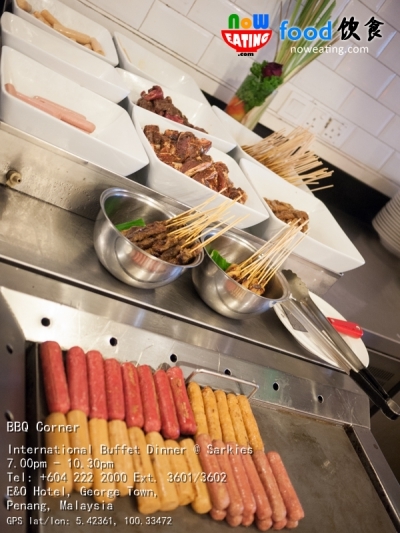 Beef and chicken satays are also available at BBQ corner. Best dip with peanut sauce provided.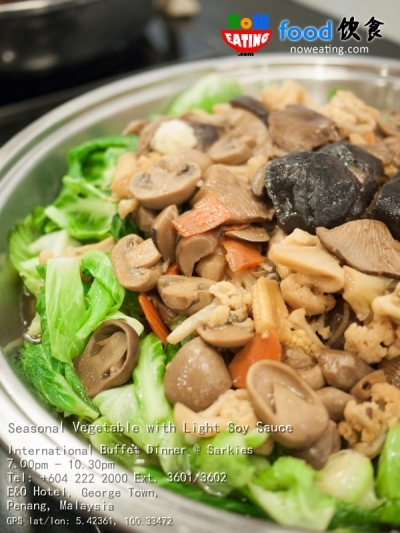 Not to forget are hot tray items such as steamed rice, Chinese fried rice, Beef Masak Kicap, deep fried sweet and sour fish, lamb, black mussels, lemon chicken, season vegetables with light soya sauce, and etc. All carefully prepared by Sarkies chefs.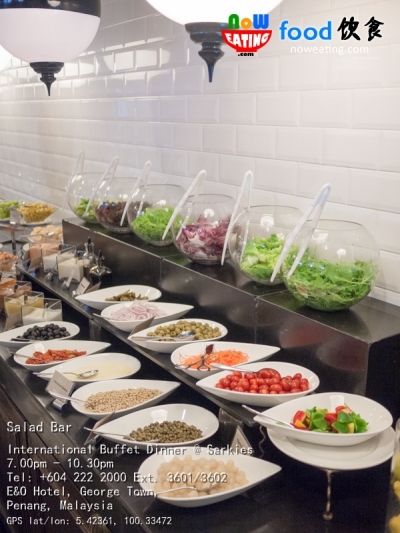 Salad bar is the corner to begin our buffet. Our favorite was salad rocket dressed with French Vinaigrette, topped with few slices of smoked duck breast, Tenggiri, and chicken ham.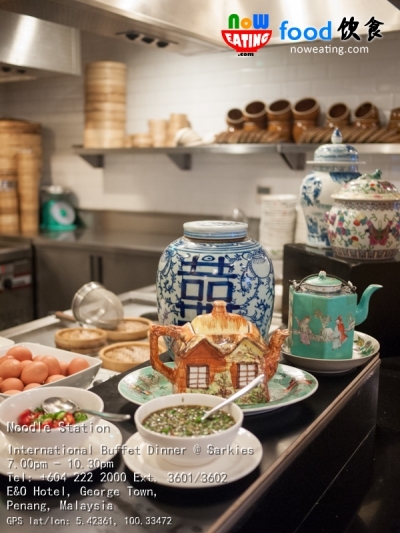 Noodle station is a corner easily be missed but its Char Koay Teow is probably one of the best Halal Char Koay Teow in town. Other than Char Koay Teow, you can customize your bowl of soup/fried noodle by selecting type of noodle and ingredients. The chef at the station will cook it for you.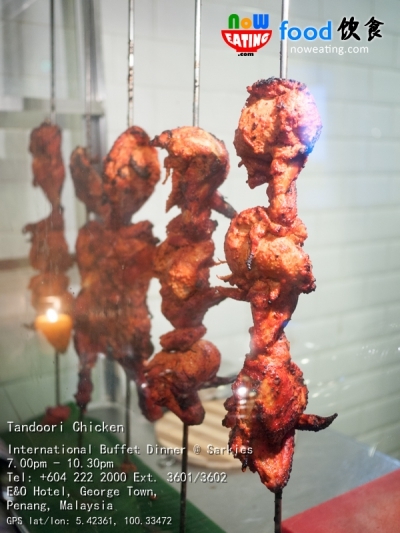 New in this International Buffet is the Indian Corner next to Noodle Station. Tandoori Chicken is a recommended food there in which the chicken is tender and best dip with sauces provided on the counter.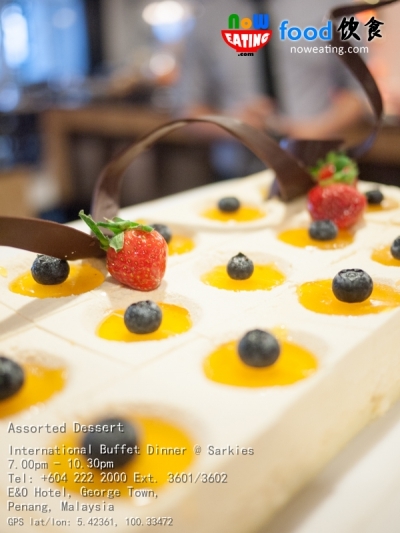 Perhaps the most tempting corner is the dessert corner full of assorted cakes and fruits. E&O Hotel has its own bakery and we believed that most (if not all) of their cakes are from their own oven. The only dessert missing that night was Chocolate Fondue but seriously, the buffet spreads were far more than enough for one person, even you just try one piece per item.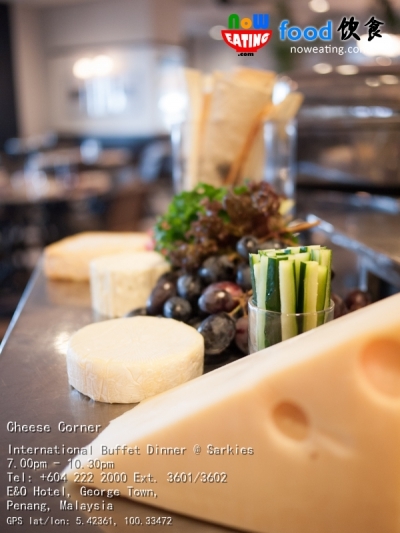 Some items we skipped due to fullness included pasta, Tempura Station, ABC, cheese corner and soup of the day.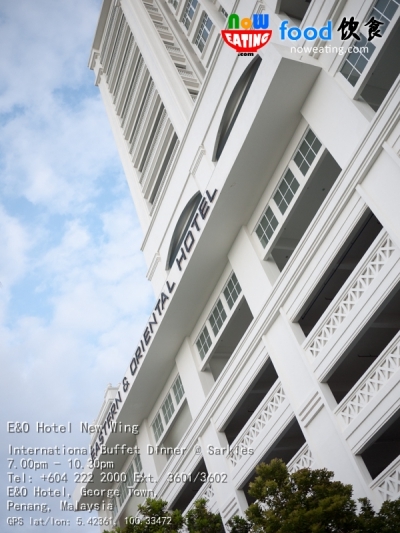 International Buffet is available from Sunday to Thursday from 7pm – 10.30pm at RM110++ for adult and RM48++ for child. Guests will have an option to upgrade to free flow of wine, beer and fruit punch by adding another RM38++.  On Friday and Saturday, it comes with live performance by Los Cantores with free flow of wine, beer and refreshing beverage by default (RM148++ for adult and RM65++ for child). If you have AMEX (American Express) card, you will entitle for 20% discount. Another option is to LIKE their Facebook page and you will immediately receive a 20% discount coupon.  For reservation, kindly call +604-222 2000 Ext. 3601/3602.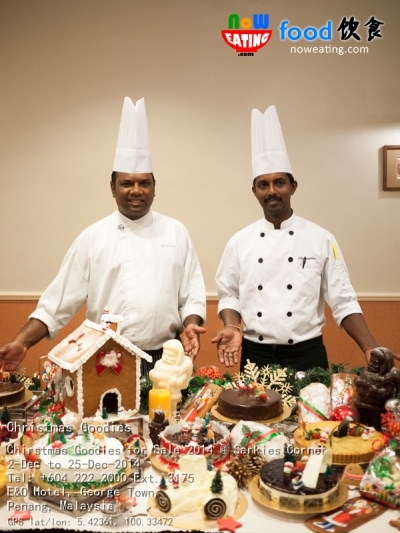 At the heritage building of E&O Hotel, Sarkies Corner is pleased to offer you Christmas Goodies during this gifting season. More than 20 items are available for you to choose from including Ginger Bread Man, Christmas Pie, Chirstmas Chocolate 'Bell', Cherry-Raspberry Cake, Christmas Yule Log, and etc. All made from E&O Hotel's Bakery.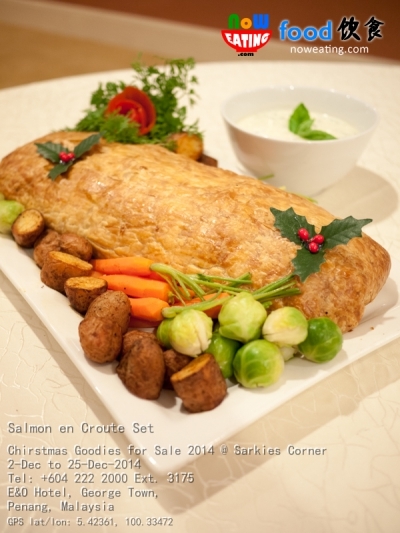 For bigger items such as whole roast turkey set, whole roast prime rib or beef set, and salmon en Croute set, minimum order time frame of 3 days prior to pick up is required. Picture above shows Salmon en Croute set made of Brussel Sprouts, Roasted Baby Potatoes, Baby Carrots, Basil Cream Sauce and of course, the salmon fish.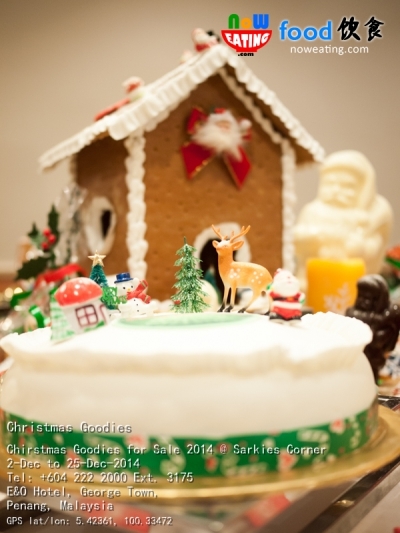 Order can be made from 2 to 25 December 2014 at Sarkies Corner Bakery Counter area. We included an order sheet here so that you can do your homework first.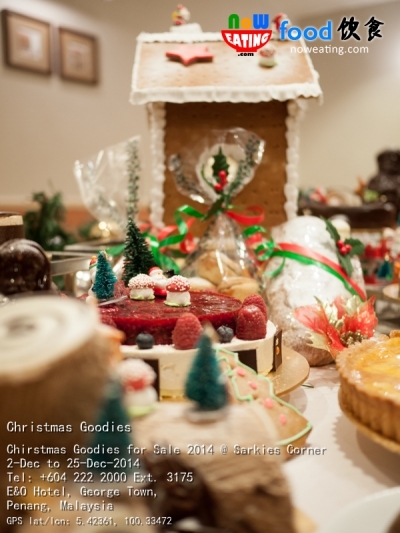 Best of all, if you confirm payment by 7 Dec, you will get 20% discount for item ordered. You can make payment first to entitle for 20% discount and collect your goodies on or before 25-Dec-2014.  For more information, kindly call +604-222 2000 Ext. 3175.