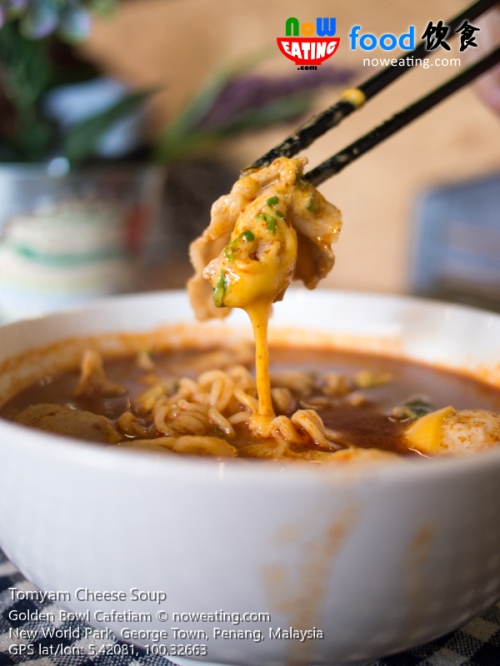 Craving for something spicy (and we mean paralyzing spicy, not the Hokkien-Mee-with-a-scope-of-sambal kind of spiciness) early in the morning? Head to Golden Bowl Cafetiam (GPS: 5.42081,100.32663) at New World Park/Batu Lanchang for a bowl of Tomyam noodle topped with a slice of cheese. Bring along a towel though.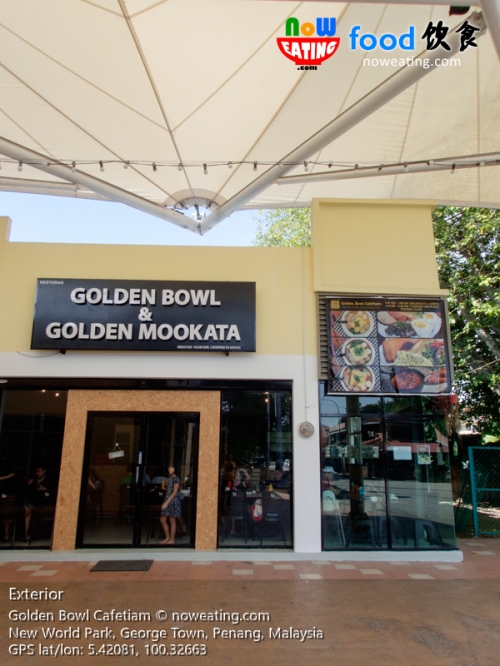 Golden Bowl Cafetiam currently has two outlets in Penang:
New World Park
Location: New World Park
Business Hours: 8.30am-3:00pm, 6:00pm-10:00pm (NEW). Tuesday Closed.
Batu Lanchang
Location: Same coffee shop with Eam Huat Charcoal Steamboat.
Business Hours: 7:30am-2:30pm. Tuesday Closed.
Yes! Starting May/2017, the New World Park extended its operation hour to dinner time with more choices including Western food, dry noodle and snacks.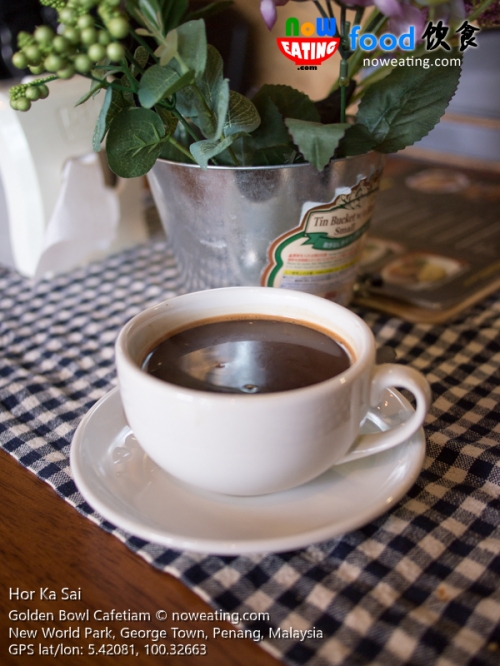 Golden Bowl Cafetiam's mission is to serve affordable amazing quality local breakfast & drinks… well, not entirely true now since it is now serving dinner. Flipping through four pages of menu, we found an item we missed it so much after returning from Kuala Sangga of Kuala Sepetang – Hor Ka Sai (RM3), which is also Golden Bowl Special Coffee Mix made of coffee and Milo.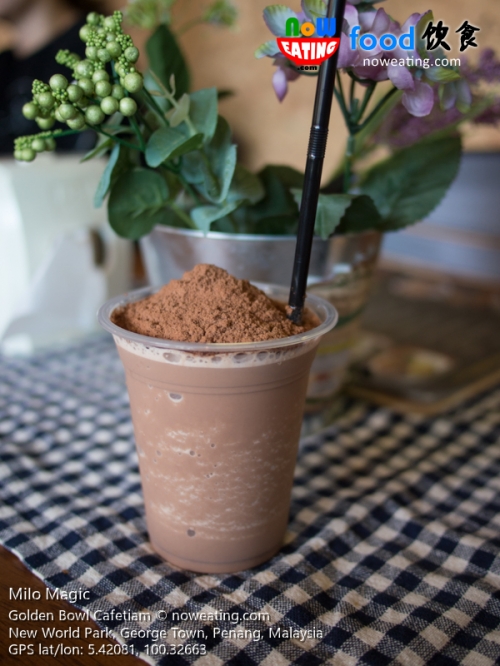 If you are Milo fan, try the Milo Magic (RM3.90 small) – ice-blended Milo topped with Milo powder giving you maximum satisfaction.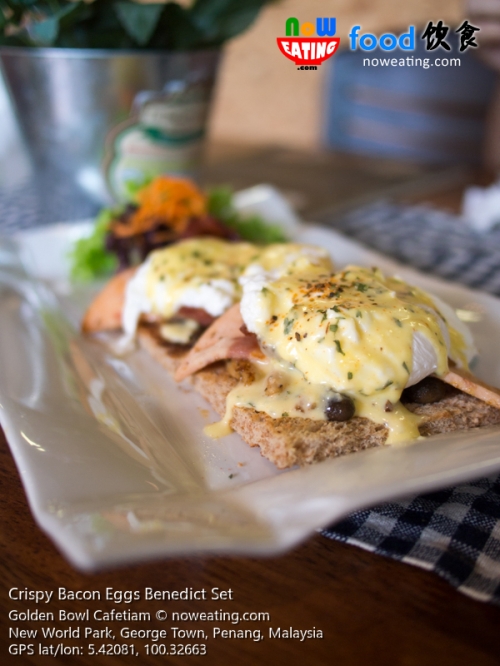 The air-conditioned dining area resemble a cafe and a cup of (special) coffee will be in vain without an English breakfast. Fortunately, Golden Bowl offers not one, not two, but seven types of breakfast set during our visit, including Crispy Bacon Eggs Benedict Set (RM16) we ordered.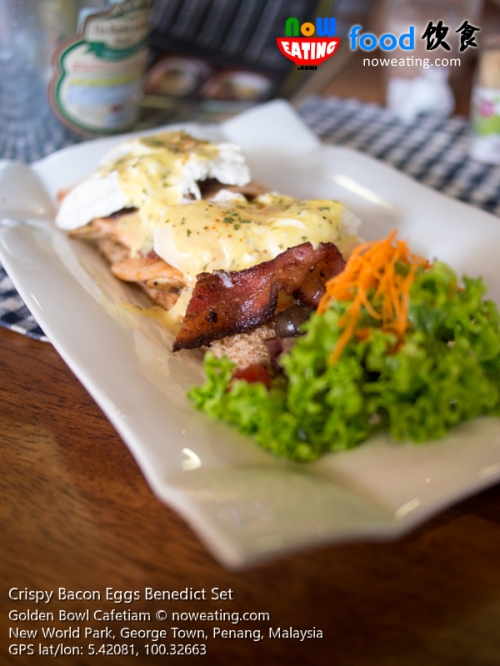 The ingredients included wholemeal toasts topped with sauteed Hon-Shimeji mushrooms, bacon strips, poached eggs dressed with signature sauce sprinkled with parsley, pepper with baby tomato and side salad. Simply suit our taste buds looking for something natural instead of processed food.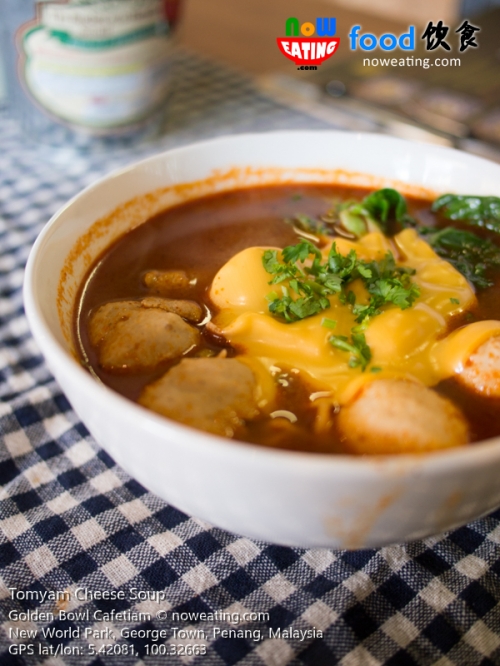 The cafe provides three types of noodles – Curry, Tomyam and Wine Soup Noodles. Each served with Maggi instant noodle with their signature dish being Tomyam Cheese Noodle. A mixed bowl containing cheese slice, pork belly, fish balls, Taiping meatball, and vegetable is priced at RM9.90. We loved the creamy Tomyam soup, even though we ended walking back with two sausages hanging on our lips.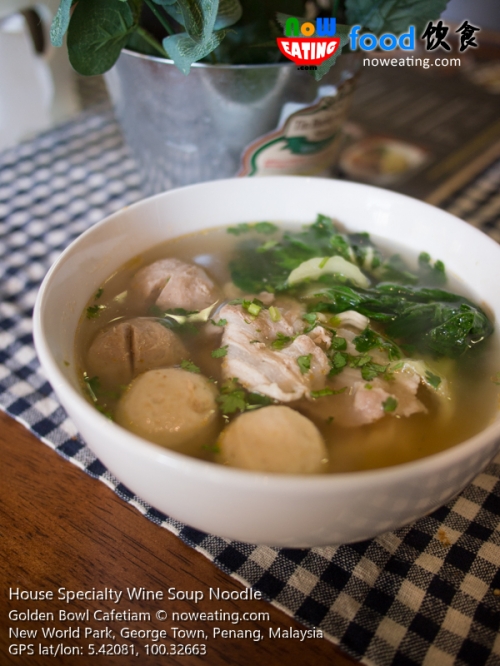 Not a fan of spicy food? Try their House Specialty Wine Soup Noodle (RM8.90 for a mixed bowl with ingredients similar to Tomyam Cheese sans cheese).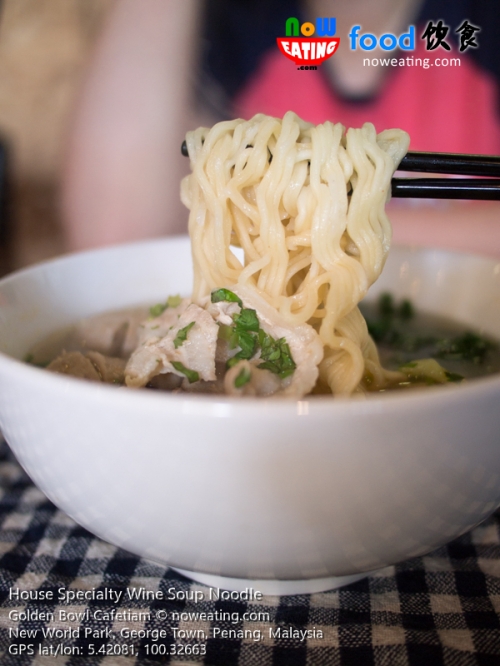 As expected, the soup had a hint of rice wine taste even though not enormous to ensure that you are still able to walk back home. As a whole, Golden Bowl Cafetiam is definitely worth multiple visits thank to its ability to turn dull local breakfast into young and vibrant food in a comfortable dining environment. Pricing-wise, it is fairly reasonable as well.
| | |
| --- | --- |
| Place Name: | Golden Bowl Cafetiam |
| Cuisine: | Western, Chinese, Thai |
| Address: | New World Park, George Town, Penang, Malaysia |
| Tel: | +6016-421 5387 |