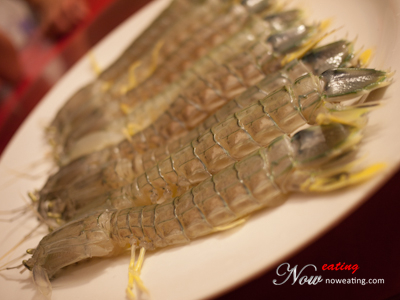 "Hello, my name is mantis prawn, and thanks to you all, we will be SLAUGHTER! Come on, we are Good Friends, right?". This is their last photo taken alive, before they turned into Cheese Mantis Prawn by Good Friend Seafood Bayan Lepas.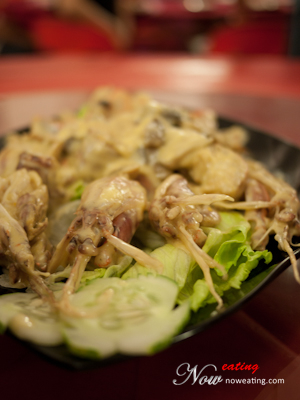 Unlike most restaurants which only serve mantis prawn frozen meats, Good Friend actually had live stock and turn them into 芝司螳螂虾 Cheese Mantis Prawn (RM28/pcs big, RM15/pcs medium). Compared to normal prawns, mantis prawns are more difficult to peel off, but the content is much sweeter than normal prawns. Beware that they do have sharp edges and fortunately they are already taken care of by the chef. Also, unlike normal prawns, inside mantis prawn head shell contents some juicy meat so make sure you don't waste it.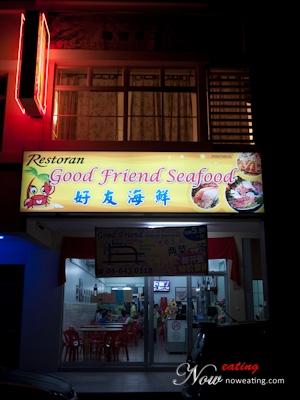 For those used to have seafood at southern region of Penang island, they should hear of Hao You (Good Friend) Seafood restaurant at Teluk Kumbar. Yes, this is its newly opened branch at Bayan Lepas near to Fairchild Semiconductor plants. Assuming you coming from town to airport. After passing Fairchild (on your right), wait at the trafic light and turn right. The restaurant is on your left hand side. Ten persons of us went there one evening (Prices showed below are referring to 10 pax).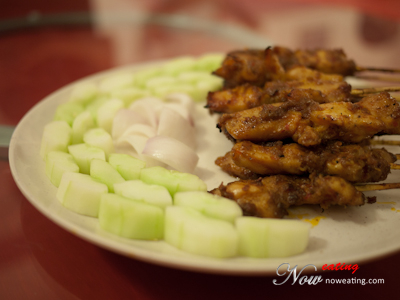 One of Good Friend's signature dish is satay (沙爹鸡串 Chicken Satay – RM0.80 each) in which you can find it at both Teluk Kumbar and Bayan Lepas branches. They were not as overburned as those prepared by Malays and the sauce is limited, but good as appetizer before any heavy seafood.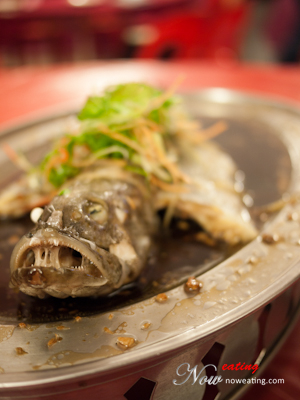 We were first served with Steam Grouper (RM80/kg) which was steamed in Cantonese style. The meat was tender since it was caught by fishing rod, not those raised in fish farm.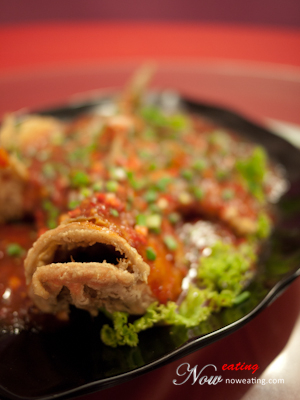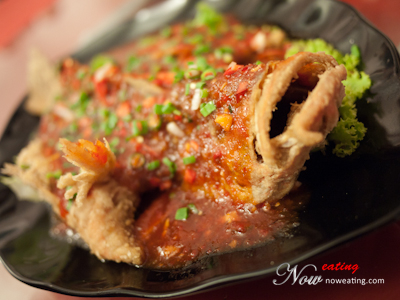 If RM80/kg creates holes in your wallet, then you may try Tri Flavor Red Snapper (RM25/pcs). The snapper was fried to golden crispy and topped with sweet, sour, and spicy sauce (and hence "Tri Flavor").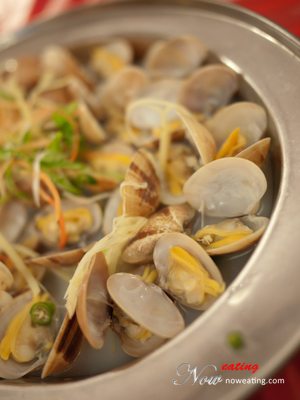 花芭蒸 Steam Clam (RM18) is my favorite at any seafood stall/restaurant. They are steamed with garlic and sprinkled with lime juice.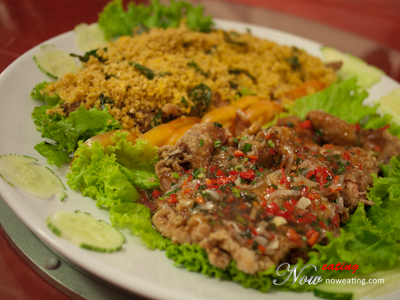 麦香鸡与酸梅鸡 Nestum and Sour Plum Chicken (RM38) was just average. It lacked of the aroma of cereal and the chicken was kind of hard.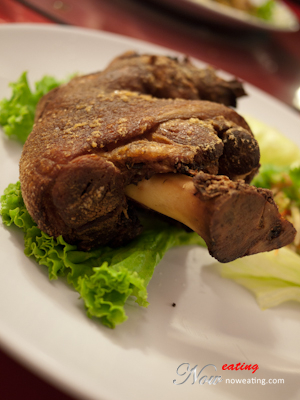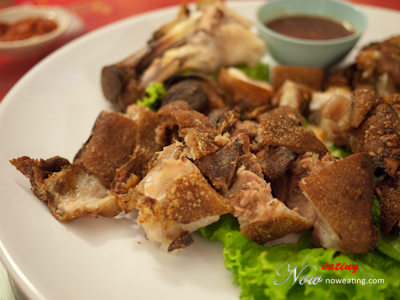 The same applied to 好友猪手 Good Friend Pork Trotter (RM32/pcs). It was too dried (even though it was aimed to be, but I did try juicer version somewhere else). As a rule of thumb, order seafood in seafood restaurant. Period.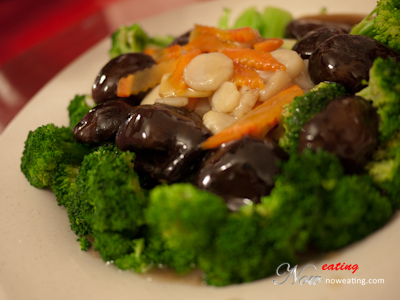 西兰花带子 Broccoli Scallop (RM38) was nicely prepared and tasted good. Reminded me of those served during wedding dinners. Having said that, one of the objectives for Good Friend Seafood Bayan Lepas is to provide better quality of food compared to its predecessor.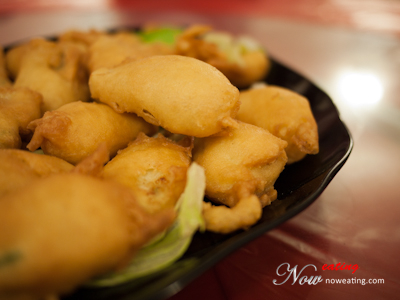 脆香豆腐 Crispy Tofu (RM20) was basically seafood stuffed tofu.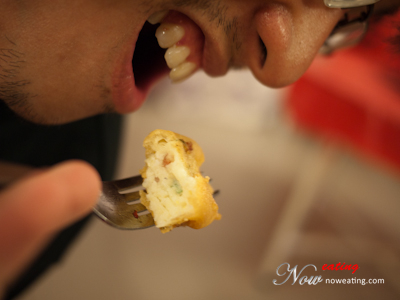 From the picture above you know how yummy it was.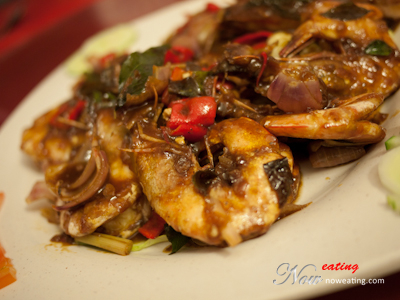 甘香虾 Kum Heong Prawn (RM80/kg) is common dish in seafood restaurant, making it nothing special this time but at least, prawns were fresh.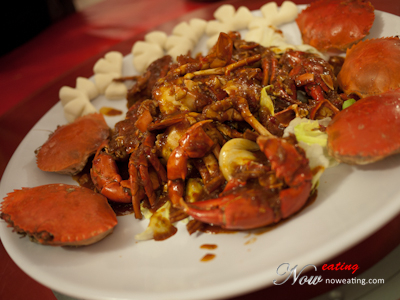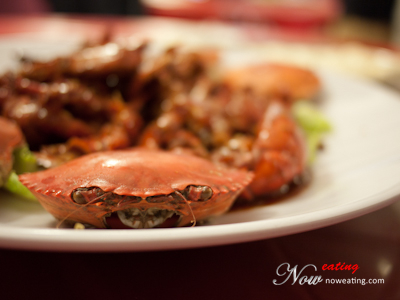 Ah~ crab. 招牌螃蟹 Signature Crab (RM50/kg) is their… uh… signature dish. They did come with buns so that you can dip them with their sweet/sour/spice sauce. They do have baked crabs as well.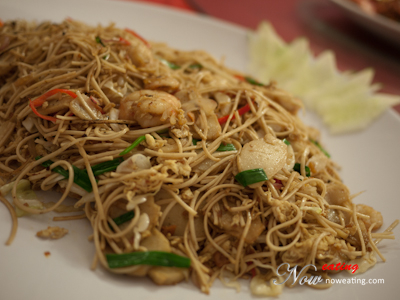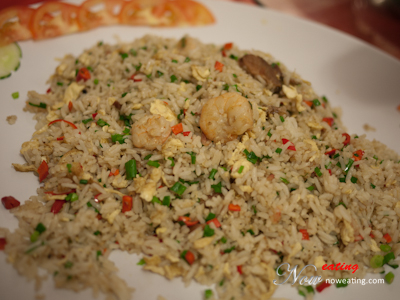 It appeared that the friendly chef, Ah Lam, could not stop cooking and served us additional 咸鱼炒饭 Salted Fish Fried Rice (RM12) and 潮州面条 Teow Chew Noodle (RM12). Depend on personal favorite, some prefer noodle to be wet, some dry… just like dry vs wet kiss.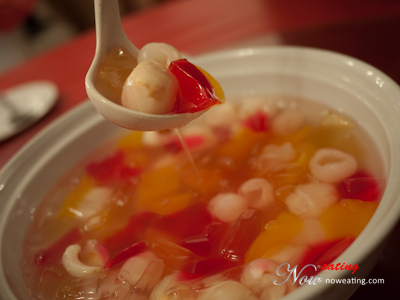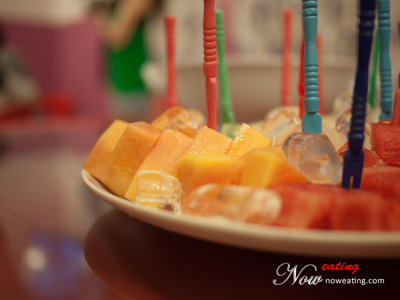 Lastly, we were served with dessert (RM12) and complementary fruits. For personalization, they did have homemade jelly added to the dessert.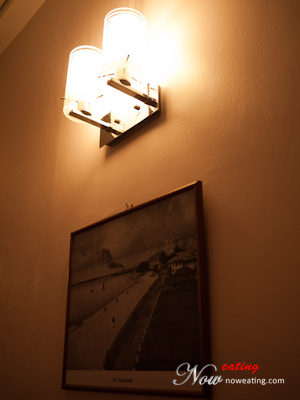 As a whole, the seafood is fresh and food presentation is much better than Teluk Kumbar's. Being human, we used to make our past experience as base line and compare the rest with it. The same applies when dining in a restaurant's branch. For Good Friend's case, many felt that food at Bayan Lepas branch tasted different compared to Teluk Kumbar "HQ". It was expected as Bayan Lepas branch is aiming for better quality of food by using better ingredients, including cooking oil. Having said that, healthier food usually tastes suck. Try not to relate back to Teluk Kumbar version and this Bayan Lepas branch should be a restaurant worth trying.
Some highlights:
Ample parking space behind the restaurant (about 120 parking spaces). 8am – 5pm (RM2 per entry. Discount RM1 if dine in Good Friend).
Outdoor delivery during lunch hour to Bayan Lepas workers with minimum of 10 packs @ RM6.50 (3 dishes + rice per pack).
Catering service: minimum of 60 persons. Self collection for 30 – 50 pax.
Seating capacity: Ground floor – 10 tables x 10 pax. First floor – 10 tables x 10 pax.
They do have economic/mixed rice during lunch hour. Good for cheap labor like me.
| | |
| --- | --- |
| Place Name: | 好友海鲜 Good Friend Seafood |
| Cuisine: | Chinese |
| Address: | 19A, Sunway Prima, Lintang Sungai Tiram 5, Bayan Lepas, 11900, Penang, Malaysia |
| Tel: | 04-6430118 |
| Email: | [email protected] |
| Working Hour: | 10:30am - 2:30pm, 5:30pm - 10:30pm |
| Last Visit: | 2-Jul-2011 |