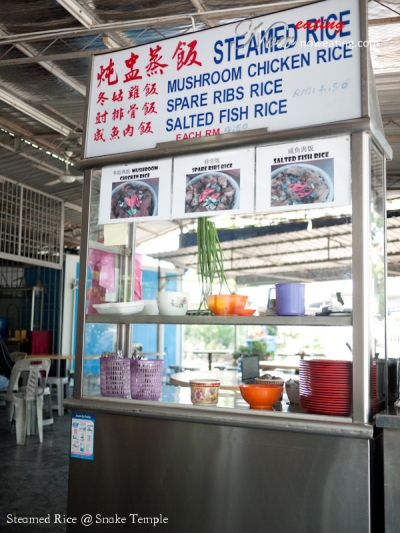 Located next to famous snake temple in Penang is a coffee shop called Yong Yao 永耀茶餐室 having food stalls which can be counted by one hand. Perhaps the most popular stall is a stall selling steamed rice at RM4.50 each.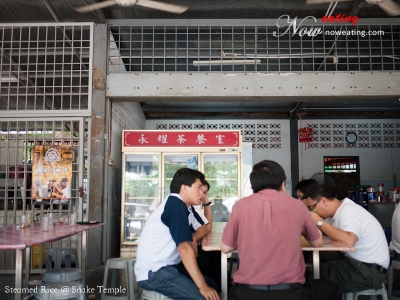 It could be crowded during lunch hour with factory workers and cheap labours like me. Sometimes, tables remained uncleaned by stall owners after patrons left the restaurant for quite some time.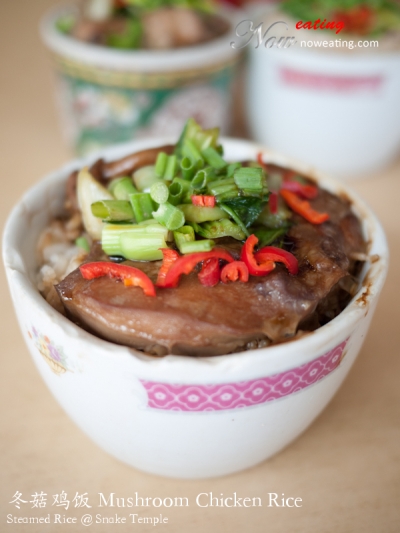 The steamed rice was served inside a traditional Chinese soup bowl. They offered three type of steamed rice. The first one is  Mushroom Chicken Rice (冬菇鸡饭).The chicken was made of whole piece of boneless chicken thigh, making this my favorite choices. We couldn't find any mushroom during our last visit. Perhaps what they mean was that they marinated the chicken with mushroom sauce.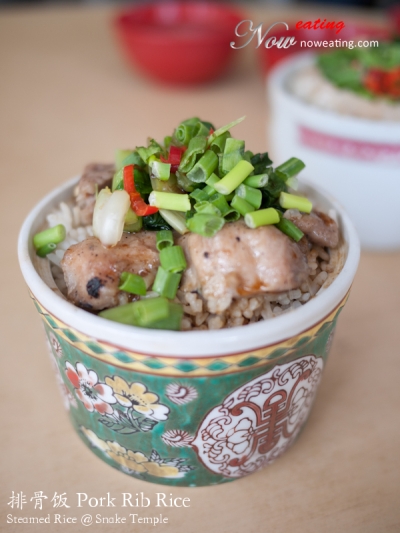 Next is Pork Rib Rice (排骨饭). It only consisted of three chunks of pork rib. Note that the art of eating steam rice is to pour the content into a provided plate, mix it well before enjoying. The rice was usually tastier towards the end. Do not finish all toppings first or else you will ended up eating plain rice in the end.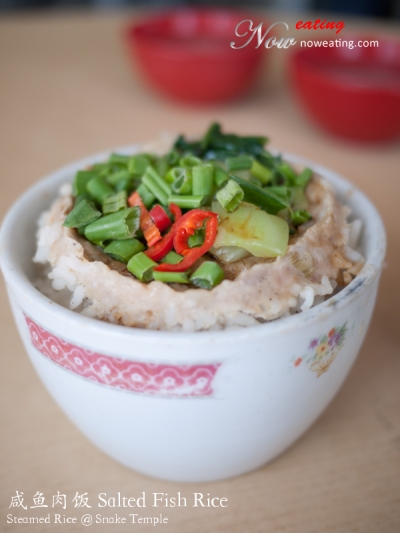 Lastly is Salted Fish Rice (咸鱼肉饭). It was similar to my family's good-o-day's minced pork with salted fish.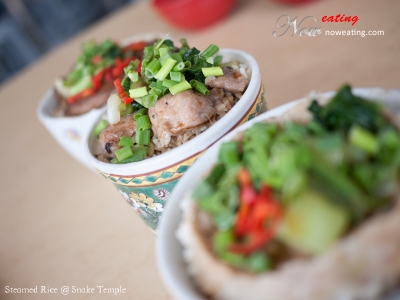 More known as steamed rice near snake temple, the food portion is generous… well, at least for its rice. Two of us finished all three choices in one lunch and we were extremely full. Each bowl comes with soup of the day. Not sure whether it opens at night but it is definitely a popular spot for factory workers during lunch hour.
| | |
| --- | --- |
| Place Name: | Yong Yao Restaurant 永耀茶餐室 |
| Cuisine: | Chinese |
| Address: | Jalan Sultan Azlan Shah, Bayan Lepas, Penang, Malaysia |
| Tax: | No |
| Last Visit: | 20120217 |