Update 23-Jul-2013: This stall is no longer in operation.
It was last Saturday when a group of bloggers went for… wait… is this a wet market? Not really. It was Siong Ho Fishhead Bee Hoonand Porridge (松和鱼头米粉和粥) stall located inside Hualy Food Court at Weld Quay. You can pick various kind of seafood from the stall.
If you are coming from Jelutong Express Way, the food court is on your left after passing through a serious of traffic lights and before reaching ferry terminal.
At night, you will notice a signboard with a chef holding a fish.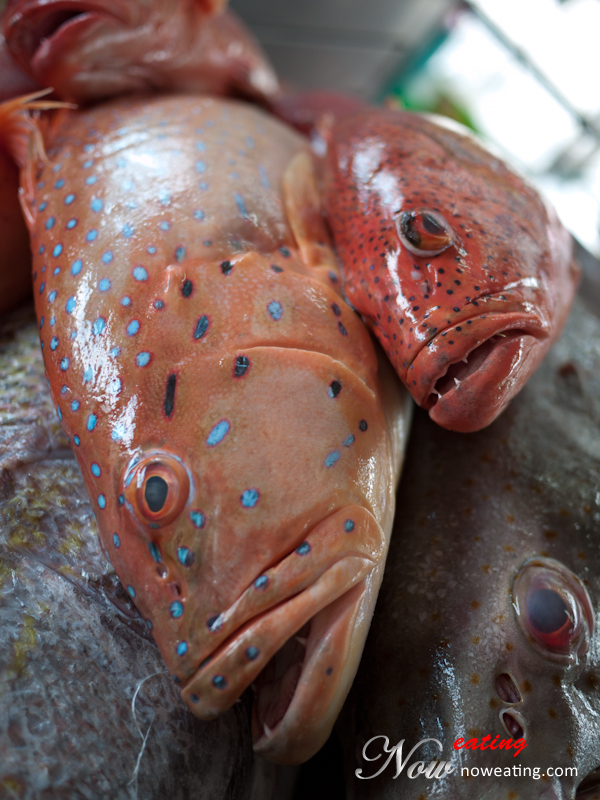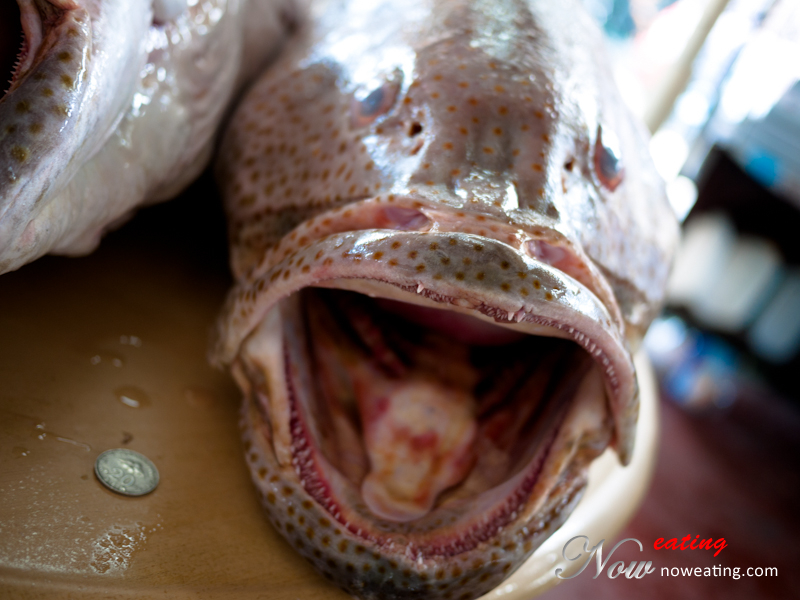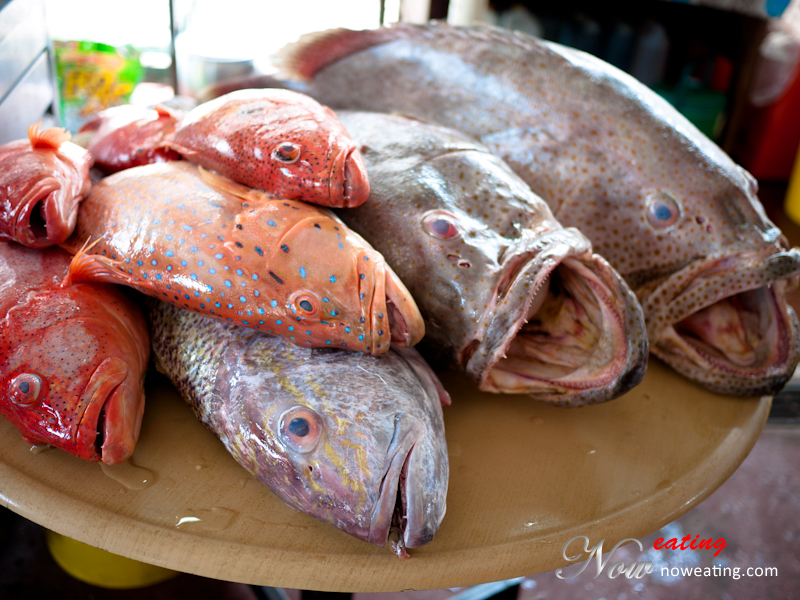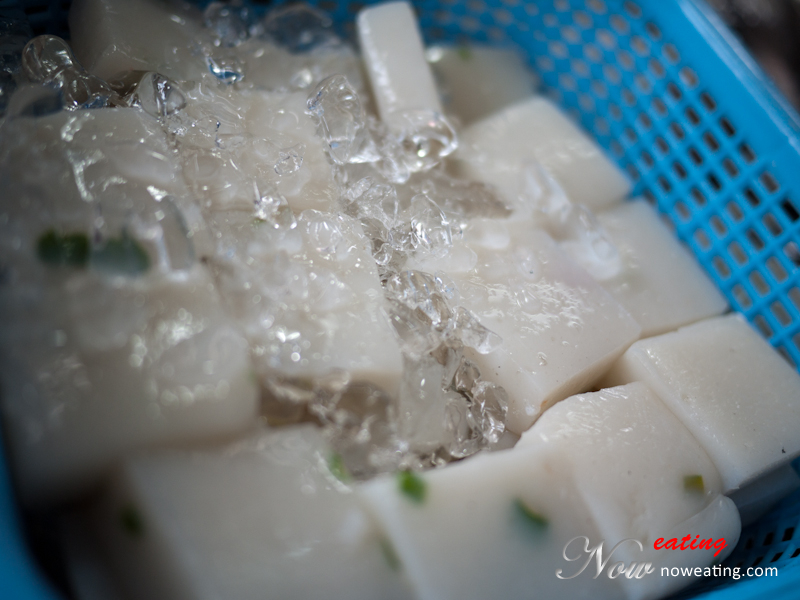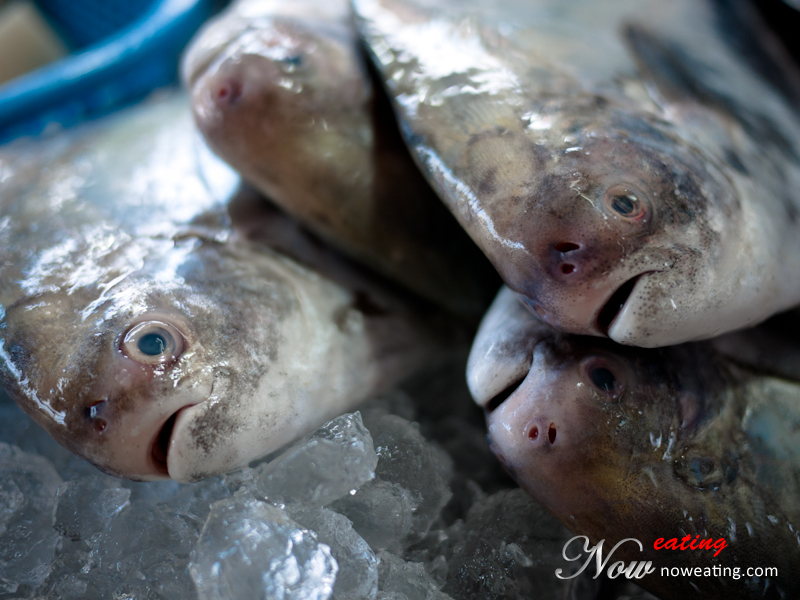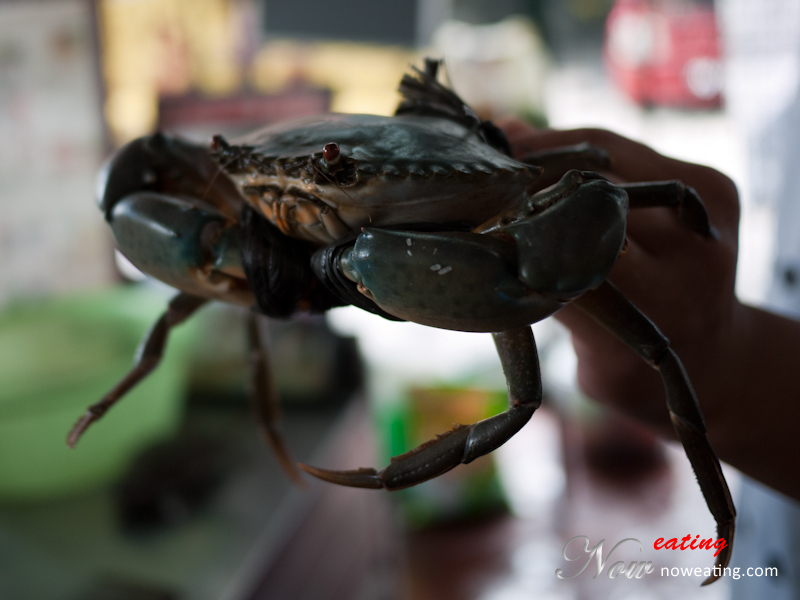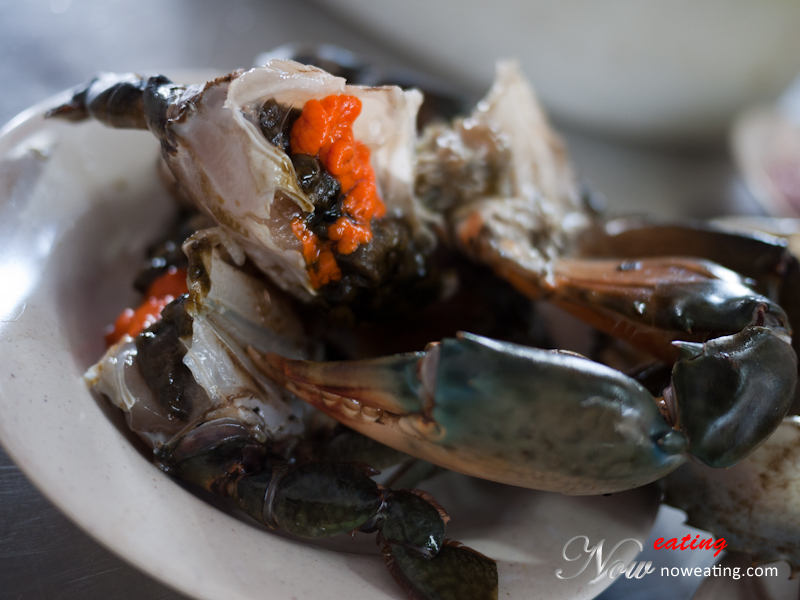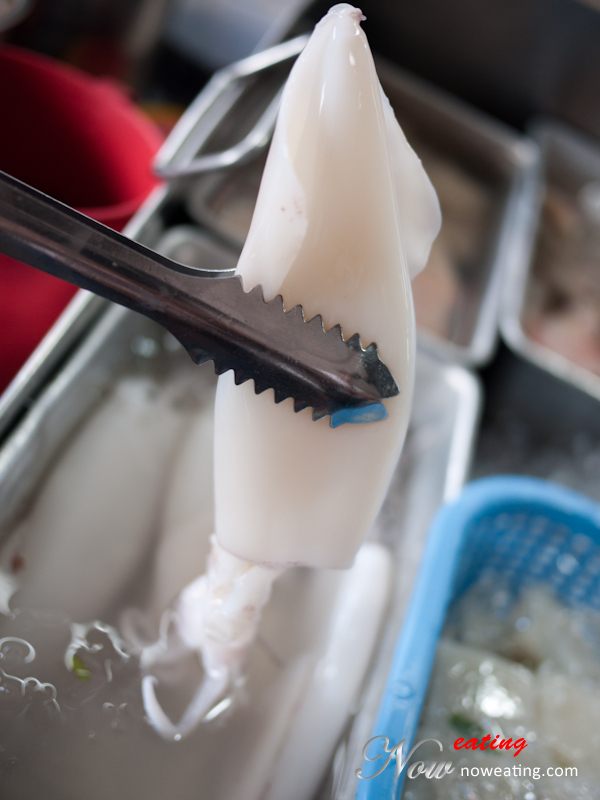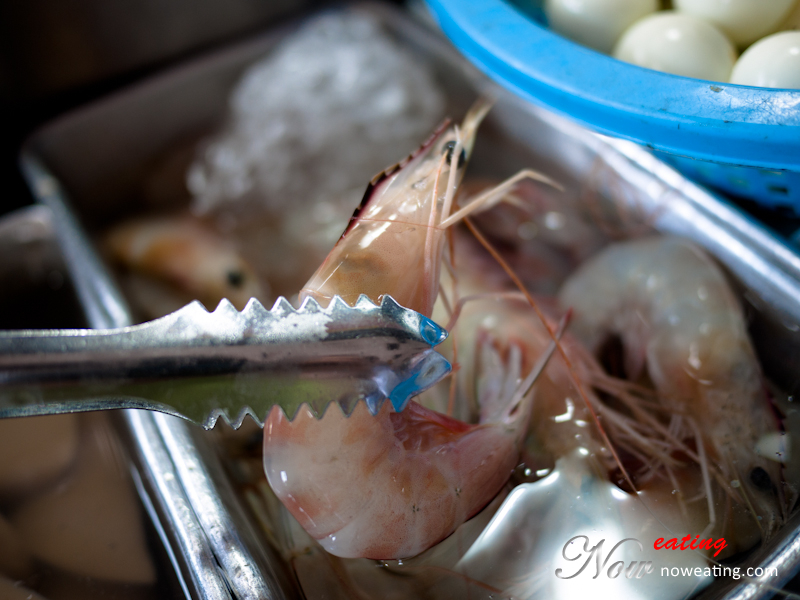 That day, they showed us some giant and luxury fishes, including bass, groupers and expensive red groupers (七星斑).
This big grouper was ready to be slaughtered.
Before that, let the auntie hug hug first.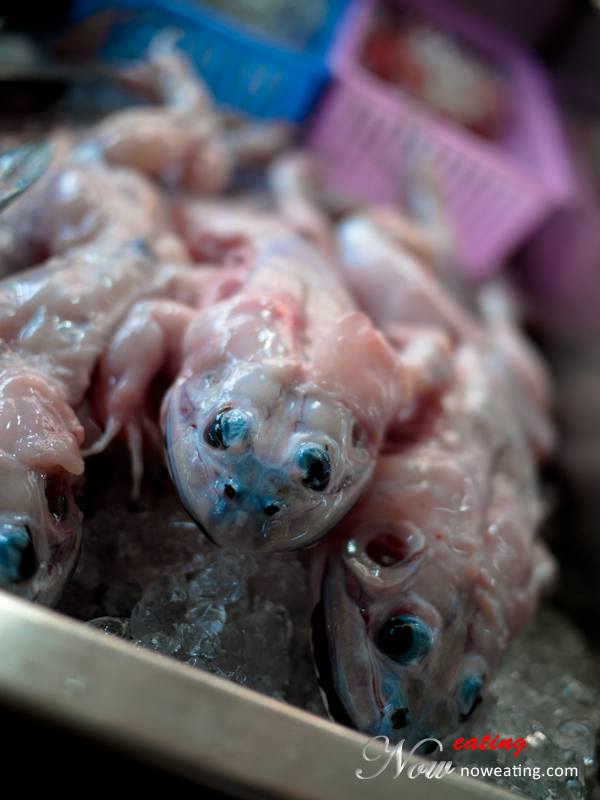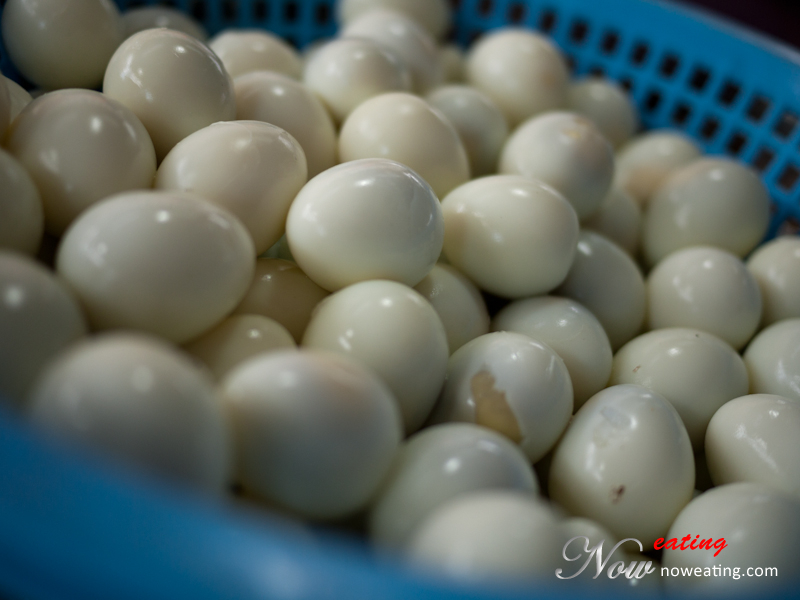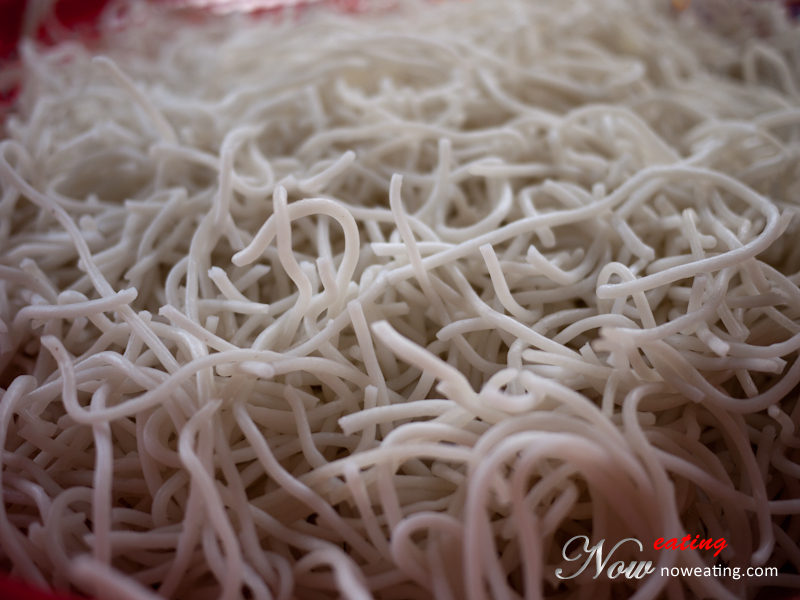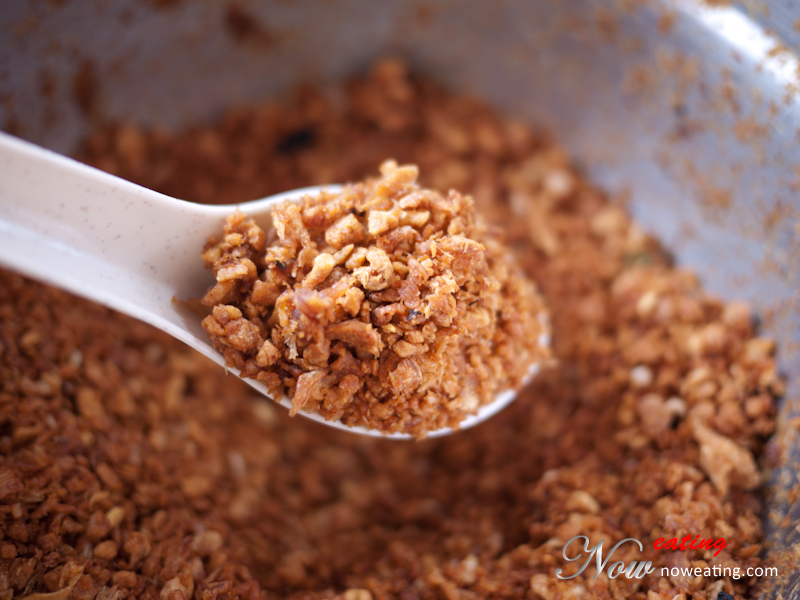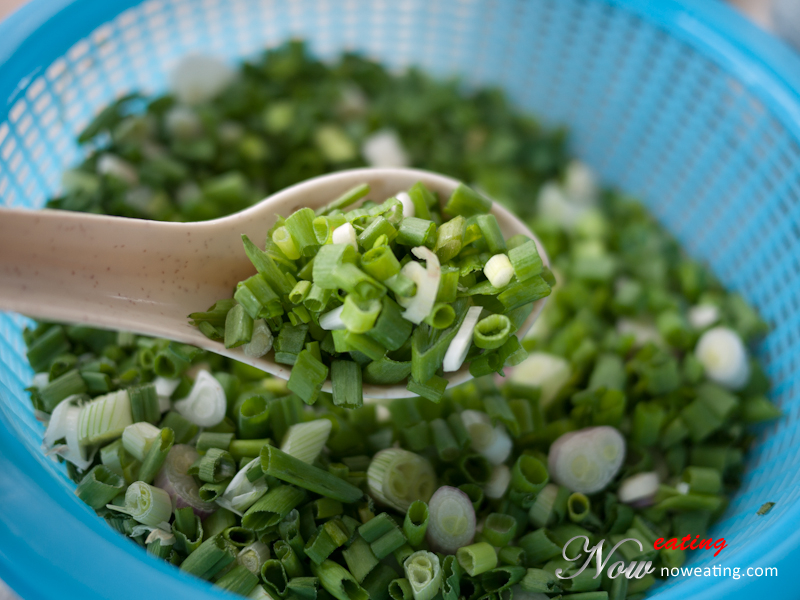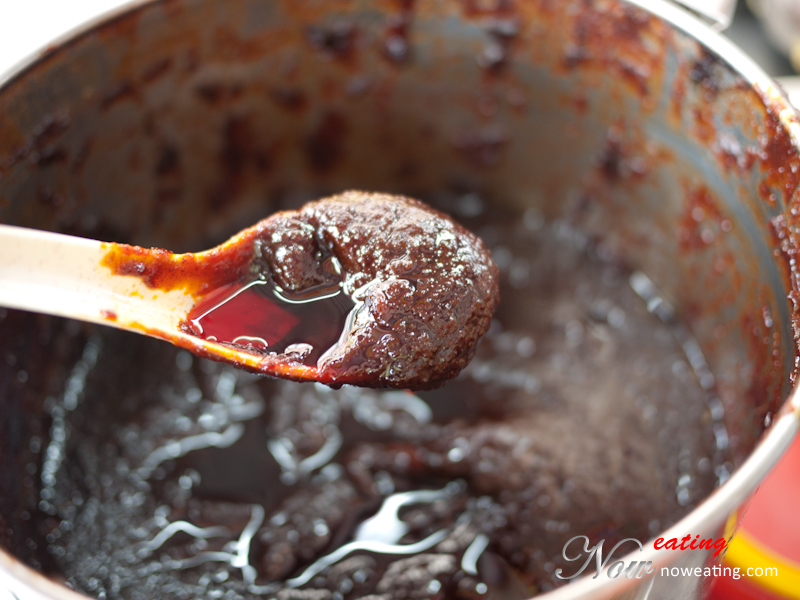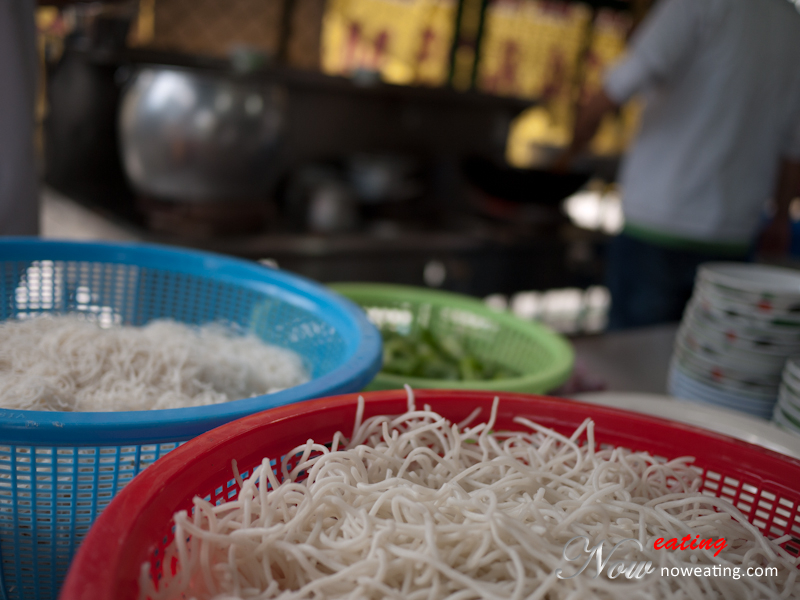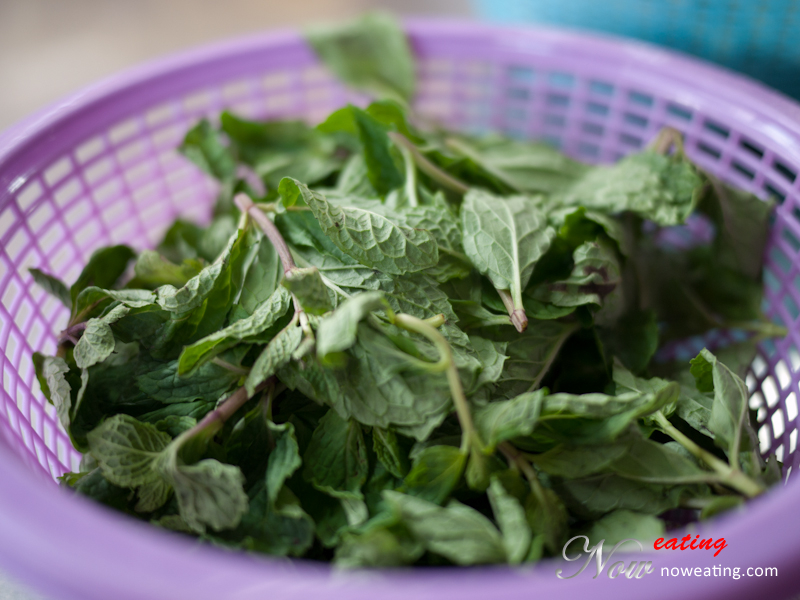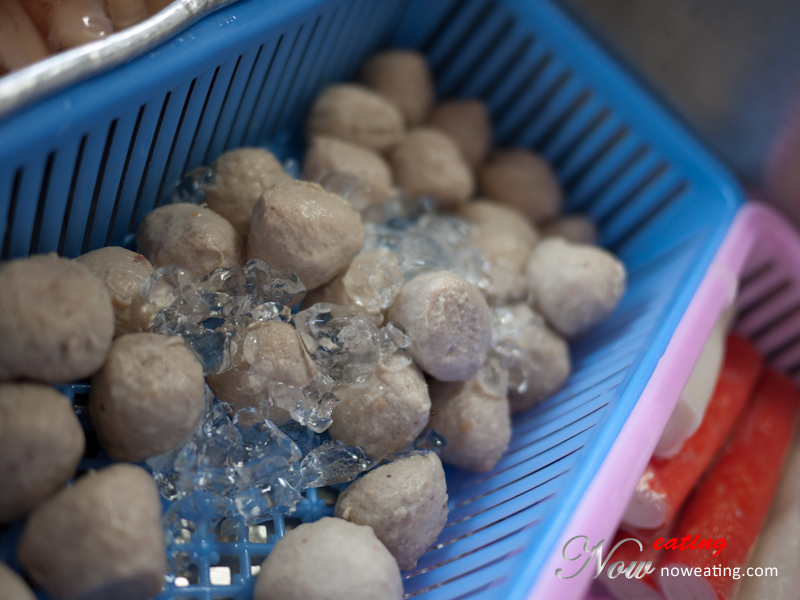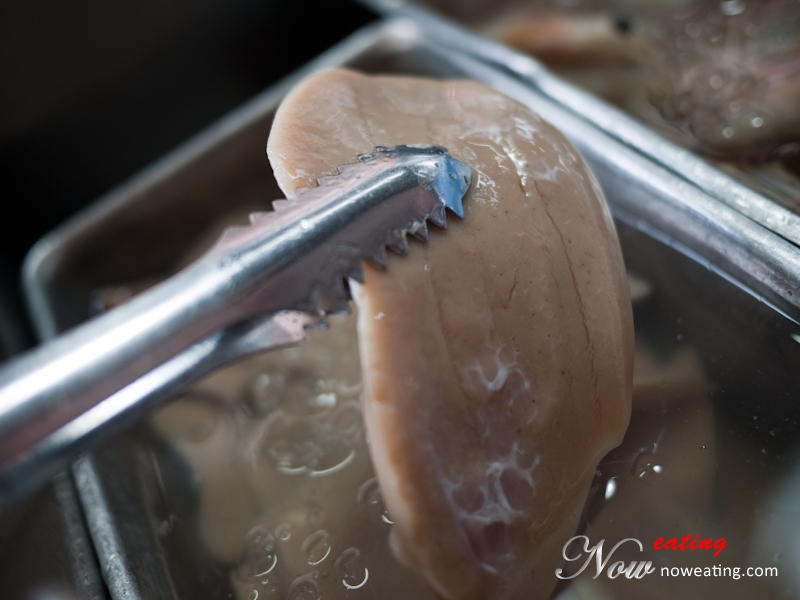 Each day they had fresh ingredients prepared, including tomyam paste, fried garlics, spring onions, rice noodles, fish balls, pork's kidney, quail's eggs, and mints.
The cook was preparing fried fish fillets.
The fried fish fillets were ready to be served.
Tom Yam Prawn Maggi Mee (东炎虾面) (RM9 – RM10) – One of the best dish Prawns were fresh. Tom yam soup was not too spicy. Suitable for most people even heavy sweater like me. Of course you can't compare the tom yam in authentic Thai restaurant but the paste here had certain quality.
Tom Yam Fried Fish Head (Thick) Bee Hoon (东炎炸鱼头粗米粉) (RM6) – The soup was same with previous one. Just that it was replaced with thick vermicelli  and fish head. The fish nugget was fried beforehand and was kind of thick. Personally I prefer thin fresh fish slices cooked with tom yam beforehand, allowing the soup penetrating the skin. Note that thick noodle absorb soup very fast.
Tom Yam Sotong Bee Hoon (东炎鱿鱼米粉) (RM6) – The sliced octopus was kind of plain due to its nature. Again, long hour cooking beforehand would make the octopus tastier.
Mixed Seafood Tom Yam Soup (东炎海鲜汤) (RM8 – RM12) – Of course if you don't like noodle, vermicelli, rice or whatsoever, you can just order plain tom yam seafood soup.  The different is that it came with some meatballs and mushrooms.
Serious I don't have much chance to try every single dish that day. 23 people of us, each person one spoon already finished up one dish. Next few dishes are clear soup version. The soup used chicken bone as base.
First one is Crab (Thick) Bee Hoon (螃蟹清汤粗米粉) (RM5/100gms) – I didn't have a chance to try the crab but according Sam Ong (who "stole" half of the crab), the crab was lack of meat even it looked big.
The same went to Crab Porridge (螃蟹粥) (RM5/100g) – Seriously after spending effort cracking crab using hands, I am not sure whether I still have mood to eat porridge or not.
Grouper Fish Bee Hoon (石斑鱼肉清汤米粉) (RM8)
Fried Fish Maggi Mee (炸鱼肉清汤面) (RM6)
Frog Porridge (田鸡粥) (RM6/100g) – The frog for me was just average. A little plain… or maybe I was "stunted" by Tom Yam's spiciness just now.
Pork Mee Suah (肉料面线) (RM8) – If you don't like seafood or in illness recovery mode,  it is good to have a bowl of pork wheat vermicelli. It is nice to see wheat vermicelli here.
The pork was freshly minced into a bowl.
For clear soup version, the best (IMO) still goes to Chinese Pomfret Porridge (斗底鱼粥) (RM7/100g). The sweetness of the pomfret made the soup tasted good.
The best dish of the day went to Claypot Fish Head (红烧鱼头) (RM12 – RM15). Best served hot. It was as good as those you will get in restaurant. An additional of a few small chilies stimulate your taste bud.
Lastly they had Fried Fish Bee Hoon (炒炸鱼肉米粉) (RM6.50). It had "Wok Hei".
The claypot was basically for decoration purposes.
We also had some drinks that day.
The one I ordered was Ginseng Root Wolfberry Red Date Tea (洋参须杞子红枣茶) (RM1.40). Not bad. This reminded me that I should make this kind of drink at home more to maintain health.
As a whole, Claypot Fish Head is a must try, followed by Fried Fish Bee Hoon. Price is reasonable as well. Some seafood is seasonal-based so it could be just average sometimes. The clear and tomyam soup are satisfactory. There is a parking area next to the restaurant so it should not be an issue. Will visit the stall again.
Special thank to Ah How and Criz for their generosity.
Participating bloggers:
http://crizfood.com/
http://studiomoonspell.blogspot.com/
http://sexydracula.blogspot.com/
http://www.facebook.com/profile.php?id=100001113331161
http://www.mrain.com/pgcc/
http://www.foodpromotions.com.my/
http://www.icalvyn.com/
http://www.sherming.com/
http://www.limpek.com/
http://www.joannechong.com/
http://www.ifublog.com/cincai
http://blog.yam.com/summermaples
http://hudxismephotoblog.blogspot.com/
http://vernonkong.blogspot.com/
http://iamkezman.blogspot.com/
http://louislimkh.blogspot.com
http://www.foodmice.com/
| | |
| --- | --- |
| Place Name: | Siong Ho Fishhead Beehoon 松和鱼头米粉和粥 |
| Cuisine: | Chinese |
| Address: | 116A, Pengkalan Weld Quay, 10300, Penang, Malaysia |
| Tel: | 012-4178998 (Ah How 阿豪) |
| Website: | http://siongho.penang.cc |
| Working Hour: | 12:00 noon - 12:00 midnight |
| Tax: | No |
| Last Visit: | 28-August-2010 |